Posted this before I think.. not sure .It's easy and a good comfort food for your family to enjoy.
SLOPPY TATER PIE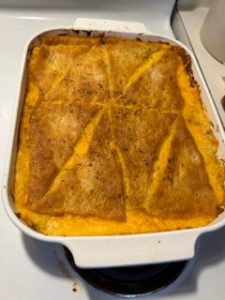 Just brown 1-2 lbs seasoned hamburger drain and add your favorite sloppy joe can to it I like Del Monte Brand
Pour your Sloppy joe Mixture into a wide casserole dish and top with warm creamy mashed potatoes, spreading evenly.
Next some shredded cheddar cheese, and last a can of crescent rolls.
I didn't even bother to pinch mine together so it could vent properly.. shake top lightly with Toneys, parsley flakes, and a light shake of Garlic powder if desire.. add a few slivers of real butter and bake in oven 30 minutes or till top is crisp