SERENA'S SWEET & SAUCY CHICKEN WITH MARINARA SAUCE
so if you like a little heat with a little heat this dish is for you.. very good in my opinion.
Have about 3-4 boneless , skinless chicken breasts thawed out and sliced lengthwise, salt and pepper them  and coat them with Zesty Italian Dressing
I started out with a small whole onion, chopped fine, about 4 cloves garlic minced fine. And a tad of vegetable oil in my large sauce pan .. saute the garlic and onions in the oil stirring with wooden spoon.
your onions will start to get very soft.. do NOT let your garlic burn whatever you do. .. Now add in your chicken strips that have been salted peppered and coated with Italian Dressing.. cook the chicken stirring frequently,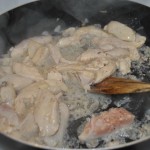 Now you will add 1 Tbsp of White Granulated Sugar , and a pad of butter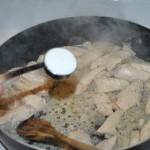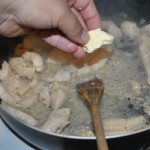 Stir FREQUENTLY as not to burn/scorch the sugar.. you want it to dissolve and not really caramelize but sort of liquify  and coat the chicken as it cooks with the onion
Now you add a little spice.. add crushed red pepper flakes, not much, just enough to give off a little heat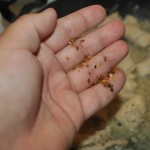 Now add a little  basil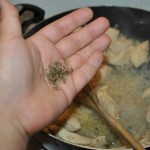 (NOTE I salt and pepper my dish as needed throughout the cooking process for taste)
Now it is time to add in your sauce
1 can of tomato sauce  + fill up the can halfway with water, adding to the chicken
1 can of tomato paste + fill up the can fully twice with water, adding to the chicken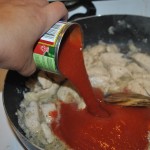 Now I don't measure I just add in parmesan cheese  about a fist full  with a little parsley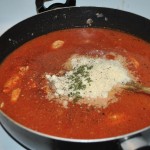 you should have a pot of spaghetti noodles you have boiled in salted water with a tbsp oil till aldente (just till cooked, they should not be soggy, but have a nice bite to them)
Drain the noodles when done and pour in some zesty italian dressing.. about 1/3 cup and toss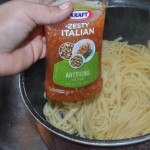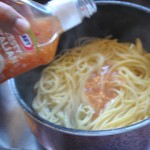 add in parmesan cheese and mix up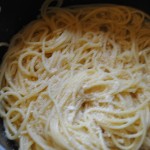 toss together with your chicken and marinara sauce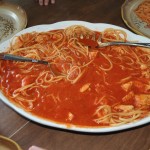 Serve enjoy!!