SERENA'S CINNAMON-APPLE UPSIDE DOWN SKILLET CAKE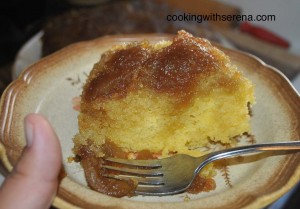 Yellow Cake Batter:
1  cup unsifted all-purpose flour
3/4 cup granulated sugar
1 1/2 teaspoons salt
1/4 cup shortening
1/2 cup milk
1 egg
(OR you can use a Yellow, Butter Box Cake Mix if prefer)
Serena's Apple Cinnamon Hot Sauce:
1-Quart Canned Apples in heavy syrup (or you can just cook down your fresh apples in sugar water)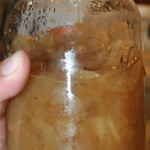 add to heavy saucepan, and add 2 tbsp butter, and 1/2 cup brown sugar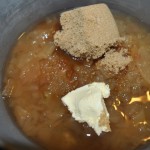 add 1 or 2 tsp cinnamon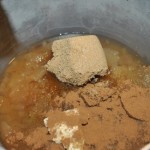 now add some white sugar.. about 3/4 of a cup or so..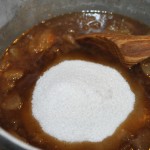 stir and bring to a boil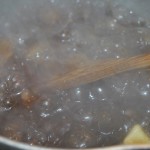 Now turn off heat and let it cool a little.. will thicken as it cools , then you can store in fridge for ice cream, or over caramel dumplings, cakes ect.. or use this sauce for my upside down cake like I am, I had sauce in the fridge I had made yesterday now I am using it today! .. ..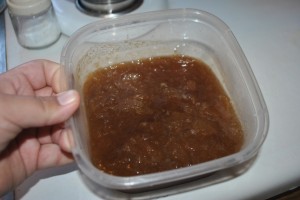 NOTE no need to cool on this recipe if you just made it,  sauce can be used immediately for the upside down cake in this recipe..
Grease and Flour your Cast Iron Pan.. (you need a large skillet for this recipe, I used a 10 5/8 inch skillet a Number 8)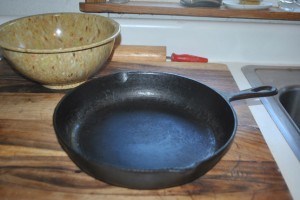 Mix up your batter for your cake
Pour your Apple Cinnamon Hot Sauce into the bottom of your greased and floured skillet (or use bakers joy) ..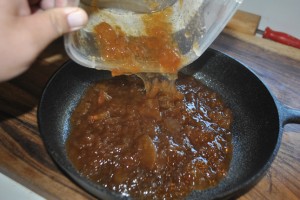 Pour your batter over top and smooth it over evenly with a rubber spatula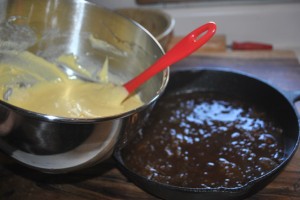 Put into a pre heated 350 degree oven for 55 minutes.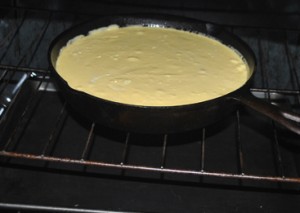 Watch it!!  all ovens are different.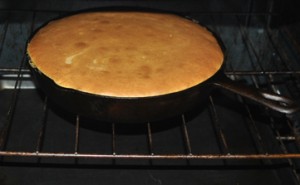 If it gets to brown on top and center is still jiggly, simply place a square of aluminum foil over top to keep the top from further browning as the center sets up.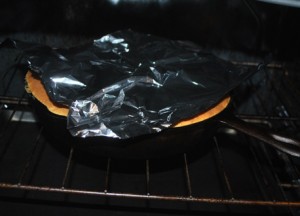 Take out of oven very carefully and loosen edges with a spatula or knife.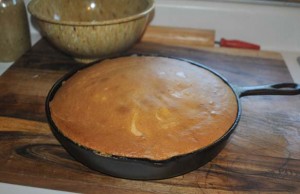 now I warn you this will take the skin off.. so be careful!!!! And put a plate on top then using towels careful not to burn yourself flip it over and very carefully and slowly pull up on the heavy cast iron your cake should release nicely. If some apples are on the bottom of the skillet simply spoon them back where they belong..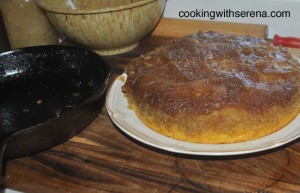 let it set a moment and serve with ice cream.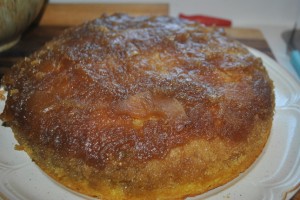 Enjoy!!!