HOMEMADE CARAMEL DUMPLINGS WITH CINNAMON APPLE HOT SAUCE OVER TOP

HOMEMADE CARAMEL DUMPLINGS WITH  CINNAMON-APPLE HOT  SAUCE OVER TOP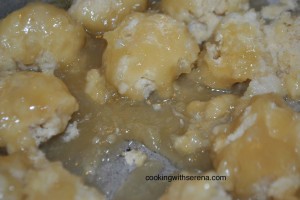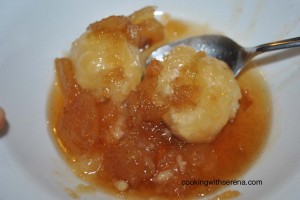 first mix up your dumpling dough
Dumplings:
1 Tbsp butter
1/4 tsp salt
1/2 cup sugar
1 Tsp Baking powder (use 3 if using all purpose flour)
1 cup Self Rising Flour
1/2 cup milk
1 tsp vanilla
Cream your butter and sugar together.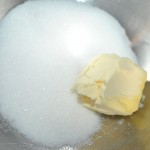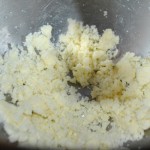 mix baking powder with flour and salt
add alternately with milk to the sugar mixture.. then add vanilla, you should end up with a coarse slightly moistened mixture..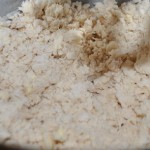 now make your caramelized sugar using a HEAVY BOTTOMED POT.. this is easy to make but people make it hard by scorching their sugar.. once it is scorched it is of no use.. you will have to throw it out.
Caramel Sauce:
1   cup white sugar
2 cups boiling water
1/2 cup white sugar
1 Tbsp butter
in a heavy bottomed pot that has a lid that goes with it.. you will begin by putting 1 cup of sugar in the pot..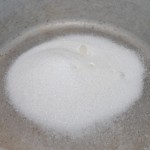 using a wooden spoon you start out on medium high heat and get your sugar to the melting stage, stirring constantly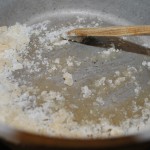 now you will add 2 tbsp butter to the pan turning down heat, (NOTE Have your 2 cups boiling water ready)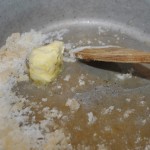 add the boiling 2 cups of water now.. SLOWLY.. and stirring with the other hand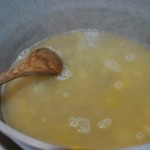 add a pinch of salt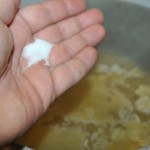 and now add your other 1/2 cup sugar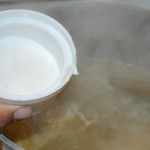 bring to a boil.. let it boil about 10 minutes.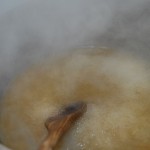 now get your dumpling dough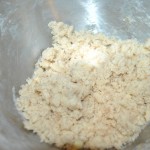 and you start dropping by the Tbsp or smallest scoops into your hot boiling syrup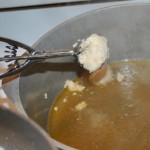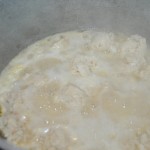 Put the lid on and turn down heat to simmer…
let it go for 15 minutes without lifting lid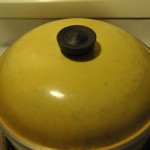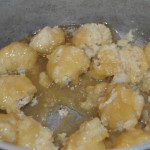 at this point you would be done with your caramel dumplings but I like to take mine a step further.. they are also really good with some Apple Cinnamon Hot Sauce
Apple Cinnamon Hot Sauce:
1 Quart Canned Apples in heavy syrup (or you can just cook down your fresh apples in sugar water)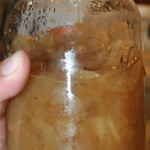 add to heavy saucepan, and add 2 tbsp butter, and 1/2 cup brown sugar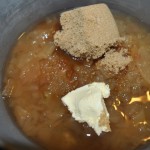 add 1 or 2 tsp cinnamon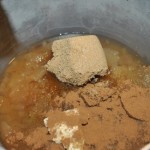 now add some white sugar.. about 3/4 of a cup or so..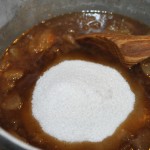 stir and bring to a boil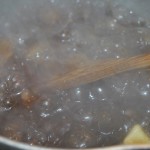 Now turn off heat and let it cool a little.. will thicken as it cools ..
Now your read to enjoy.. you can eat your Caramel Dumplings plain which is amazing like that.. I love them like that too..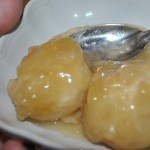 or you can eat them with the apple cinnamon hot sauce over top .. the rest of the apple cinnamon sauce save and use for ice cream topping or a  upside down cake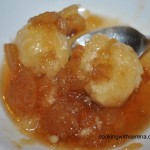 Enjoy!