Artistic Bread Dough
(Salt Dough, NOT for eating.)
A long-lost friend, Flora Justice, gave me this perfect recipe many years ago.
Add 1 1/2 cups salt to 1 3/4 cups hot water. Stir until partially dissolved. Add 4 cups plain flour. Stir until mixed. (Sara used my KitchenAid dough hook.) For sugar cookie coloring, add BEFORE mixing: 10 drops yellow, 8 drops red, and 3 drops green food coloring. For a light gingerbread color, add the food coloring plus 1 tsp. cinnamon, 1 tsp. ginger, and 1/2 tsp. ground cloves. Beat until well blended.
Roll out dough on lightly floured surface. (PC's pastry mat is perfect.) Cut with various cookie cutter shapes, then bake on either ungreased PC stoneware or greased cookie sheets. Bake until brown and hard, about 1 hour at 300*.
*You can bake this at 350 for a little browner dough, but the "cookies" will get puffy, making them harder to paint, work with for gingerbread houses, etc.. The lower temperatures keep the dough nice and even.
More spices or food coloring can be used, but I find much more cinnamon to be highly irritating to asthma and allergies.
LIKE AND SHARE! http://new.pamperedchef.com/pws/lesliepease
Salt dough art by the grandkids and their Aunt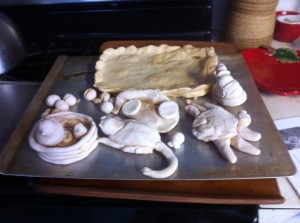 Salt dough on a snowy day helps keep cabin fever away!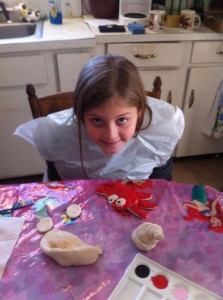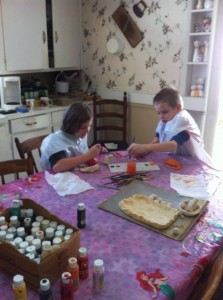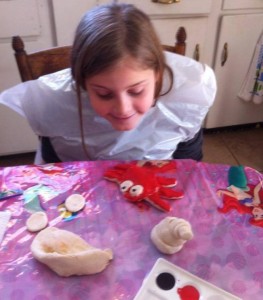 My grandkids made adorable bugs, snowmen, birds and a bird's nest, doll furniture, etc., out of the salt dough. Keep the baking temperature low to prevent puffing/disfiguration but bake it longer.