Homemade Reese Cups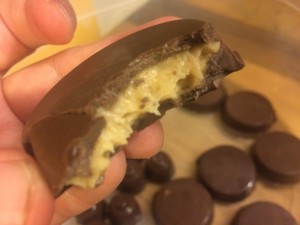 Melt some chocolate bark some milk choc chips and a small chunk of parrafin wax in a double broiler and keep on low heat .. stir smooth.
Using a small spoon drop and some chocolate and spread around the edges and sides.. don't have too much just enough to coat mold.
Place mold in freezer
Once hard take out and pipe in your peanut butter filling
… not too much.. spread with case knife and spoon in some chocolate to cover. And seal the filling inside.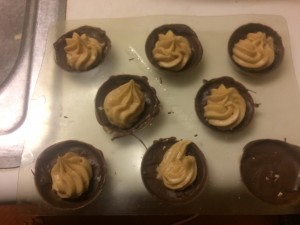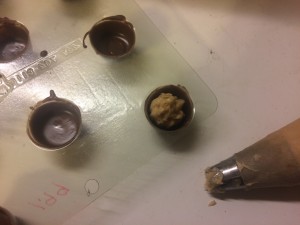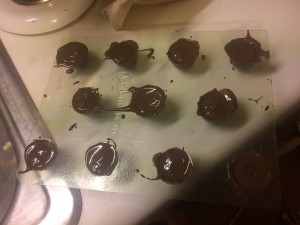 Next we will pop them into the freezer until they completely Harden.
Take them out and give a little bend to the mold and the candy should pop out nicely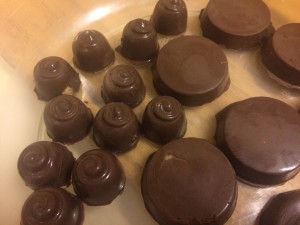 Now to keep them just place in sealed container and keep in fridge. You can serve on candy dish at room temp as well but if too hot they will melt..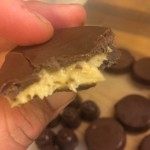 PEANUT BUTTER FILLING RECIPE
so I just used the peanut butter frosting recipe I  use to frost my cupcakes and cakes .. it's creamy and delicious.. you can actually make it thicker if desire like a real reese cup but I really love it like this. It doesn't make it seem so heavy.
Just take 3  cups of confectionary sugar and mix it with a stick of butter and a cup of Jiffy Peanut Butter. Mix well..  add in a tsp of vanilla then add in a couple tablespoons of milk to desired consistency
Makes the job so much easier if you can pipe the filling instead of using a spoon.
If you don't have a icing bag and tip.. put into a gallon ziplock bag, twist  top and pus icing down to the bottom corner. Cut corner of  bag with scissors