TORTELLINI CHICKEN SOUP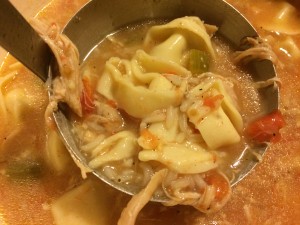 3 cans chicken broth
3 cups water
1 onion chopped
3 stalks celery with leaves chopped
2 large cloves garlic minced
tsp basil
Pinch of red pepper flakes
1/2 tsp parsley flakes
A little dried oregano
3 bay leaves
5 skinless boneless chicken thighs or you can use some chicken breast .. whatever you like. I like dark meat best.
Add a little Salt
Pepper well
Let all ingredients slow cook on stove in stewing pot with tight fitting lid till chicken is fork tender
(tip- if your not in a hurry and want it for next day just do this part in a crock pot and add rest of ingredients next day)
Now you use fork to pull chicken apart some.
Add 1 quart canned garden tomatoes and juice.
On high heat you add in a cold pack of Tortellini noodles stuffed with cheese.
Put on lid and let noodles heat through.
Add Parmesan cheese and serve.
Note- I sometimes add a family size can of chicken and rice soup and a can or so of water to my tortellini Soup.