CHEESY CRACK RIGATONI CHICKEN BAKE 
INGREDIENTS
Skinless Boneless Chicken Strips
Chicken Broth (didn't measure)
2 blocks of cream cheese
2 Tbsp butter
1 clove minced garlic
1 packet dry ranch Mix
1 can Campbell's Cheese Soup
1 can yellow corn
parsley flakes
1 box rigatoni noodles
1/4 cup shredded parmesan cheese
black pepper
Real Crumbled Applewood Bacon
Kraft Colby Jack Cheese Finely Shredded
Can make on stovetop or crock pot or even instant pot.. I chose to use the Crock pot this morning..
Add handful of frozen or thawed skinless boneless chicken strips. add a little chicken broth and put on with lid to low.  When chicken begins to get tender add a whole block of cream cheese, 2 Tbsp of butter and 1 clove of minced garlic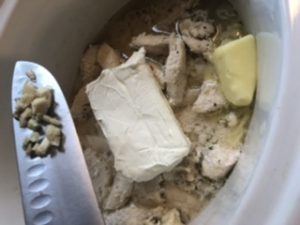 add almost one whole packet of dry ranch. Next add one can of Campbells's Cheddar Cheese Soup and 1 whole can of drained corn.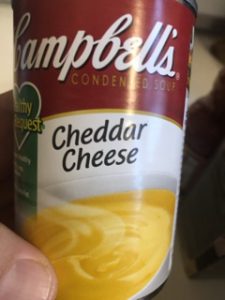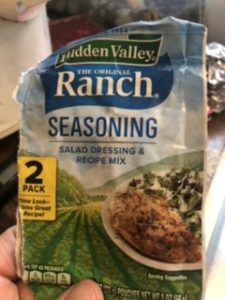 Stir and put lid back on while you boil some rigatoni noodles in salted water.
Ok noodles are boiled, drain and add a tiny bit of  chicken broth to them while still in hot pot, and sprinkle some shredded parmesan cheese over the noodles.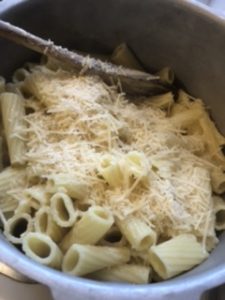 Add some Parsley flakes and pepper, and stir, toss in the crock pot with the creamy Ranch Sauce.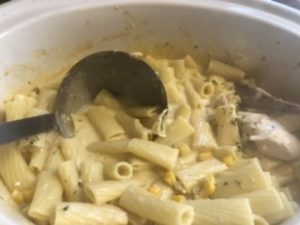 Oven is preheated to 350
Take out casserole dish 9×13
Ladle some of the sauce into your casserole dish. with a bit of noodle. Sprinkle on a touch of  Finely shredded Kraft Colby Jack Cheese, dot with dollops of cream cheese ,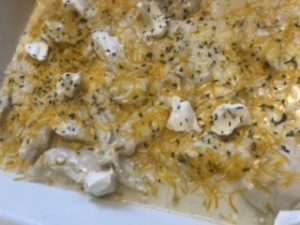 then layer noodles again and add a little more cheese and the rest of the cream cheese in dollops randomly in dish.
Sprinkle top with parsley flakes and  Real Crumbled Bacon and any remaining cheese (lightly) Put in oven and bake 15 minutes and serve.