---
Another Ham Recipe from me
TOFFEE GLAZED CRACK CANDY HAM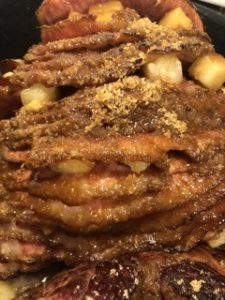 Every time I do a ham its like a mad hatter.. I just have fun with it!
usually I use honey or Molasses and brown sugar and a base of either Dr Pepper or brown mustard .. always different, and it is usually a process .
This time I had the idea to do it like toffee it was the easiest candy ham I ever did and actually probably one of my most favorite,  the kids and boys loved it!
.Tavern hams are my favorite but I had two cheap spiral hams from Sams Members Mark brand, the bone in..hickory smoked,

and they were both very small and I decided to make both hams.. so I put them in my big metal turkey roaster at 275 degrees covered it with my metal top, bake (15 min per pound) when I took it out, there was a good amount of ham drippings (broth), you can't candy a ham in that much broth or it will steam it too much and not give the desired effect.. you dont want to get rid of the broth either at this point because you may need it later if your ham starts to dry out.. so I moved my hams over to my metal roasting lid and turned the oven to broil.. decided to open one of the packets that came with one of the hams .. it was a brown sugar dry mix with a little smoke so I decided to sprinkle it over both hams (I did not open the other packet) and then I added more brown sugar over the hams. I put it in under broil in the oven and brought it out. I wasn't happy with it and I decided to make a quick toffee to pour over it.. before I made the toffee I drained a can of pineapple chunks and stuffed pineapple chunks randomly in the slices so they would be open and catch my toffee as I poured it in.. so each bite got a little bit.you can also add cherries…for toffee I added two sticks butter (do not use margarine) in a sauce pan to melt and added 2 1/2 cups of brown sugar. let it cook till frothy while stirring continuously,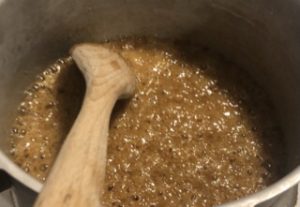 pour over the hams slowly covering every bit of the ham.
Put into oven at 350 for 2 or 3 minutes ..I didn't time it, I brought it out and it looked tacky but it started to harden up after a few minutes as it sat there.. it was actually PERFECT.. It is an ongoing thing… no matter how many times I make a ham they always come out different haha … I wish our dinner was tonight but it is tomorrow and I made it early which I hate to do.. nothing quite as good as fresh.. tomorrow it will be good but never as good as it was when it was first made hahaha.. …I did reserve some of my. ham broth in a ziplock bag as well in case it dried out in the fridge.