TOFFE CHRISTMAS CRACK CANDY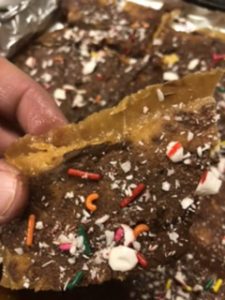 You can use about anything you want for your topping.. usually Chocolate Chips go over then I like to take a couple of peppermint candy canes and crush them inside a ziplock baggie. and add sprinkles as well … or even some mini marshmallows or marshmallow cream .. maybe some nuts or even crushed butterfingers. Or even simply do the toffee layer and skip the chocolate and top with Sea salt for a Salted Caramel Toffee
Start by lining a cookie sheet with lip with aluminum foil. and lightly spray it.
line whole pack of Saltine Crackers (can also use Ritz, or even graham crackers although the salty will complement the sweet best)
preheat oven to 350 degrees
in saucepan on stovetop you will add two sticks of butter
melt it down and add in 1 1/3 cup packed light brown sugar until bubbling and frothy
pour very carefully the toffee over the saltines
bake crackers for 5 minutes
take out and set on hot stovetop and while hot pour almost a whole bag of milk chocolate or semi sweet chocolate  chips over and use rubber spatula to spread so chocolate will melt
top with your favorite topping.. I like the crushed peppermint very lightly and some sprinkles over top
CHILL .. I actually put mine in the freezer and then pop out and break it up and put into tins..
October 2023
M
T
W
T
F
S
S
« Sep
1
2
3
4
5
6
7
8
9
10
11
12
13
14
15
16
17
18
19
20
21
22
23
24
25
26
27
28
29
30
31