SERENA'S BLACKBERRY SHEET COBBLER

This is a hard one to share simply because it's made with a bunch of measuring of the heart… But I will try my best… ALSO this pan is not a 9×13 it is double that.. so you will need a sheet cake pan for this unless you use less ingredients …  I warn you this has a LOT of sugar so if it's not for you then no need to let everyone else know about it.. Make it at your own risk. Plus you need to remember I am making a very large pan so everything is as if it is doubled if that helps you any LOL. 
In a saucepan on stove I have some frozen blackberries I am boiling, you can also use fresh, 2 pounds.
Add a Tab of butter and 4 cups of sugar
now I just ladle in two ladles of tap water.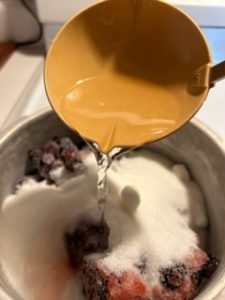 Turn on heat and start mixing your batter.
Like most cobblers, its just a biscuit batter so you wont really measure.. I started out with about 3 cups of self rising flour  and to the flour mixture I added about two cups of sugar and two cups of whole milk. Add a little vanilla to the batter (you don't have too but I like to)  Stir your batter and set aside.  (NOTE: you will mix together another batch of  batter same as this one it is just easier to do in two batches rather than one)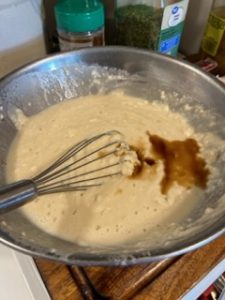 Set batter aside and return to stove .. add about a Tbsp white Karo syrup to your berries if super tart or can leave out.. your choice.
Now this part is easy but tricky.. you can get it too thick or too thin.. I want mine juicy but thick enough as my topping wont be sloppy .. Some berries draw more juice than others so you have to adjust accordingly with your thickening agent. I make a cornstartch slurry by adding a couple tbsp of cornstarch to a cup and adding a little water and stirring it well.  Then Pour into your sauce pan when it is near to or comes to a boil.. stir and if needed repeat .. REMEMBER it will be in oven a while too so it will thicken somewhat so don't make it like a thick pie filling… just so it isn't super runny.. if any of this makes sense.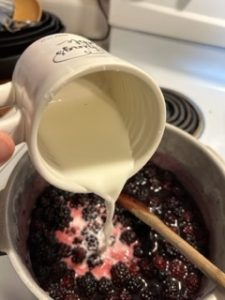 Now take your sheet pan and put two sticks of butter in it and put into the oven at 350 to melt down a little

Take out and pour your berries into the pan with the butter.
Take a rubber spatula and start covering from one end to the other with your biscuit batter (remember I doubled it)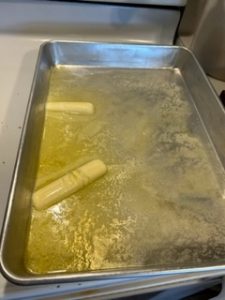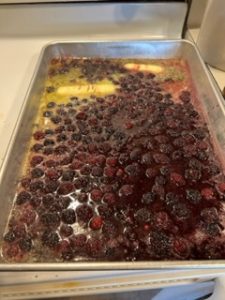 Now sprinkle some white sugar over top and place into the oven for 40 minutes
when time is up you will check your top and middle with toothpick orange thin paring knife to see if batter is done.. pull out and sprinkle lightly with cinnamon sugar mixture and heavily with white sugar, spread evenly..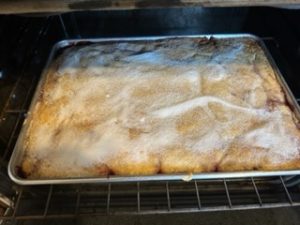 and place back in the oven 8-10 minutes according to how hot your oven is.. this is what works for me…. Last I broil the top a tiny bit for a sugar crust.
DON'T BURN IT … You have came too far.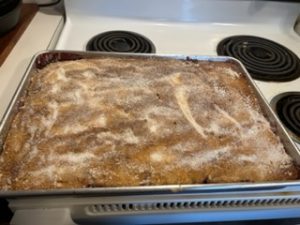 Take her out and let her set a little if you can.. if you can't grab the vanilla ice cream and dig in. Serve any loose berries over your ice cream and enjoy!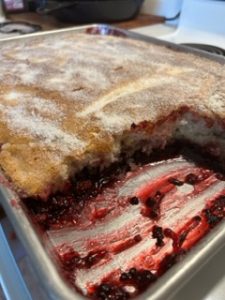 October 2023
M
T
W
T
F
S
S
« Sep
1
2
3
4
5
6
7
8
9
10
11
12
13
14
15
16
17
18
19
20
21
22
23
24
25
26
27
28
29
30
31