Low Carb Philly Cheese Steak Wrap
Ok guys so tonight while the boys enjoyed their Philly Cheesesteaks on Hoagie bread, I tried the St Joseph's lavish bread wrap in place of the hogie roll.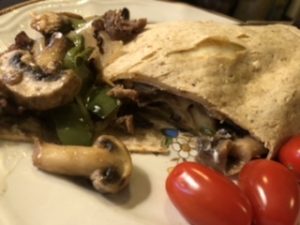 I didn't skimp, and used two slices  of the Lavish bread for all my fixens.
Sautéed Onion, green pepper and mushrooms in a little butter with some Tommy Toe Tomatoes on the side and I even used a tiny bit of Mayo in my wrap with the Swiss cheese and still my carbs for this meal was only 24 carbs where as ONE hoagie bun is 37 carbs
Wow 😳
Crazy town!
Here is my Low Carb Philly Cheese Steak Dinner