RECIPE  ANDP PHOTO SUBMITTED BY Ona Rollins
Mongolian Beef, sweet carrots, and zucchini and onions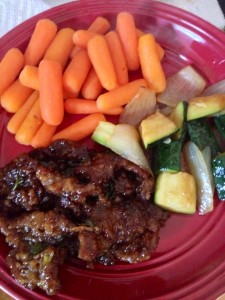 Zucchini with Onion 

2 Med Zucchini
1 Med onion
4 tbsp. canola oil
2 tbsp. butter
2 tbsp. Teriyaki sauce
1 tbsp. Sesame Sauce

Cut Zucchini into planks. Cut onion into pieces. Heat oil in a skillet and add butter. Sauté vegetables until just tender and golden. Add teriyaki sauce and stir to coat. Serve with sesame seeds sprinkled over.
July 2022
M
T
W
T
F
S
S
« Jun
1
2
3
4
5
6
7
8
9
10
11
12
13
14
15
16
17
18
19
20
21
22
23
24
25
26
27
28
29
30
31