---
---
VEGETABLE SOUP OUT OF STEW MEAT 
a good way to make food stretch is to use one days meal to make a completely different meal out of the leftovers the next day.
I made an easy  crockpot stew yesterday with a small  deer roast, (you could use a beef roast as well). I added  carrots, a whole chopped onion, 1 can of beef broth, 1 cup of chicken stock, 2 minced garlic cloves,  1 can of French onion soup, a tsp Worcestershire  Sauce, black pepper, a touch of salt and a tbsp of A1 sauce. put on low and add cut potatoes after meat is tender.
Serve with homemade Macaroni and Cheese on the side. We usually have leftovers when making a roast. So I put the leftovers in a sealed container and in the fridge.
The next day after work all I have to do for a new and quick yummy meal on a cold winter day is take out my leftovers from the fridge. Put a pot on the stove, add in all the veggies and broth from your stew, add in some of the stew meat, (I left some out for dipped sandwiches for my husband) Then add two family size cans of tomato soup.
Fill up ONE of the cans of tomato soup with water and pour that in. Add one can of drained yellow corn, one quart of drained green beans, black pepper, one can of French onion soup, parmesan cheese, I had about a cup of Mac and cheese leftover and I even added that in, Stir and if needed add some more cooked macaroni or small shell noodles.
Make a pan of cornbread or some cheddar bay biscuits to serve on top of the vegetable soup. Enjoy!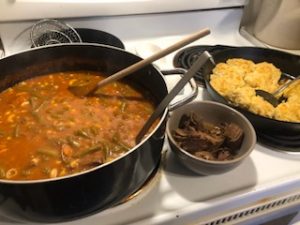 June 2023
M
T
W
T
F
S
S
« Feb
1
2
3
4
5
6
7
8
9
10
11
12
13
14
15
16
17
18
19
20
21
22
23
24
25
26
27
28
29
30