Dressed to Impress😂
No recipe.. as usual – more of a method … I usually buy a cooked Tavern Ham, beat cooked ham ever. But this time I chose a cheap Sugardale Ham and it really wasn't that bad.
Trim off the thick layer of fat on outer part of ham. Score with knife and smear with pure honey. The. PT down with granulated sugar.
Just put in your roasting pan and heat the cooked ham according to the poundage of the ham (15 min per pound)
Add a tiny bit of water or dr pepper to the roasting pan so it won't dry out. but if you have too much liquid in pan drain off later because your candy wont stick if too much moisture is in the oven
Towards end of heating, I pat down my ham with brown sugar and on stove top I boil two sticks of butter ans 1 1/2 cups brown sugar one minute till foamy and pour over top of ham.
Put back in oven and broil
Take out candied ham and take to wooden block to slice.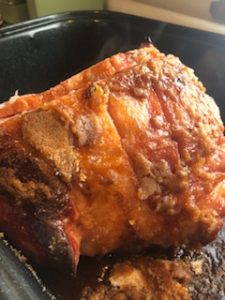 I use an electric carving knife. Helps to use a fork to steady it while carving your hot ham.
add your slices to a metal pan.
(I like to dip the slices in the drippings in my roaster before adding the slices to the waiting pan.)
once you have carved all you can, save the ham bone with a little meat left on her, in a ziplock, and put in freezer to use later on a soup.
now to your ham add chunks of pineapple, and maraschino cherries.
i decided this time
to make another batch of candy to over because my ham wasnt the best quality ans neesws a little dressed up haha ..
i hit it with some maple syrup and poured my toffee over.
put back in the oven under broil. watch carefully!

take out and enjoy.
this is not diet friendly 😂
May 2023
M
T
W
T
F
S
S
« Feb
1
2
3
4
5
6
7
8
9
10
11
12
13
14
15
16
17
18
19
20
21
22
23
24
25
26
27
28
29
30
31