VANILLA CUSTARD CREAM PIE WITH MERINGUE  & CRUST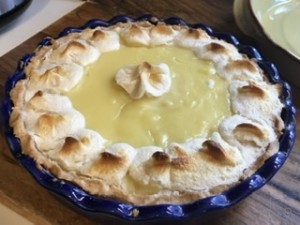 INGREDIENTS
you will need  a baked Pastry for single crust pie  (recipe Posted below)
1 1/2 cup sugar
1/4 cup cornstarch
1/4 tsp salt
3 cups milk
4 egg yolks (keep egg whites in separate bowl)
3 Tbsp butter
1 1/2 tsp vanilla
Meringue
4 egg whites
1 tsp vanilla
1 tsp cream of tarter
1/2 cup sugar
Pie Crust
1 1/4 cups all purpose flour
1/2 tsp salt
1/3 cup shortening or lard
4 tbsp cold ice water
DIRECTIONS
Prepare your pie crust first actually..
PIE CRUST
Stir together flour and salt .. cut in shortening till looks like small peas
sprinkle 1 tbsp water over part of mixture and gently toss with fork push to side of bowl and repeat process. keep repeating till all is moistened and you can gently gather into a ball.
on lightly floured  wax paper on your board, turn out pie dough gently.
flour hands, rolling pin and sprinkle a little flour over top of pie dough .. roll out working pin side ways until you form a circle continue until your dough is able to fit a nine inch deep dish pie plate
I  just use my wax paper to lift up and turn over into my pie plate.. peel off my wax paper and cut off excess dough.. pinch edges or flute edges whatever you want to do.. its your pie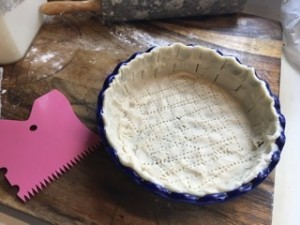 make sure you make holes in bottom and put in 400  to 450 degree oven and let pie shell bake.. should bake till bottom is no longer doughy and the edges are browned.  Let cool on counter while you make your filling.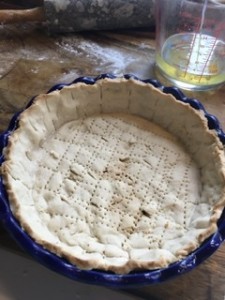 VANILLA CUSTARD FILLING
I first go ahead and separate my eggs .. (set egg whites aside to come to room temperature for meringue later)
beat your egg yolks lightly
In heavy bottomed saucepan combine the sugar the cornstarch and salt. Gradually add in milk over medium high heat.. careful to stir constantly and not have your bottom of your pan scorch.. this will scorch easily and it will ruin the taste. Cook until thick and bubbly and reduce heat.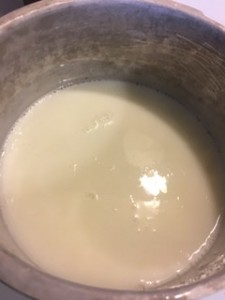 Next take your pan off heat and go over to eggs .. add in a tiny bit of milk mixture to your eggs as you whisk eggs.. you don't want eggs to curdle so you can't just add them all at once.. so your slightly tempering them, warming them so you can add them all to the sauce pan..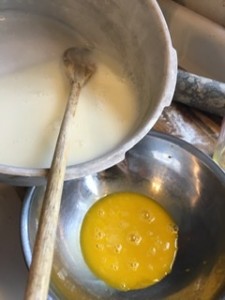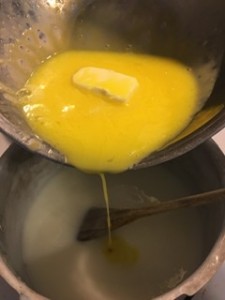 once you add all your eggs to the saucepan you will continue to stir and watch as not to scorch as you thicken your pie filling .. add in your butter  and your vanilla.. stir well and turn off heat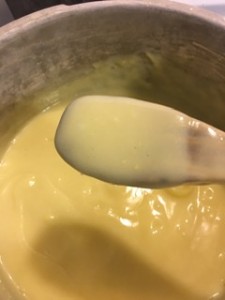 Pour hot mixture into semi cooled pastry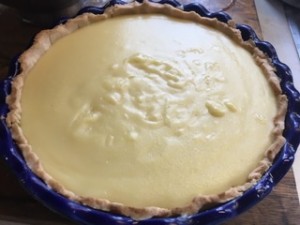 make meringue.
MERINGUE
Beat egg whites with the 1 tsp vanilla and the cream of tartar, beat till soft peaks form. Gradually add in the sugar beating to stiff peaks.
I actually overheat mine because I was busy with my bread.. usually my meringue is much fluffier..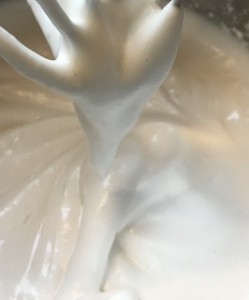 take your meringue and spread over whole pie or you can go around edges with dollops and a dollop in center if desire..
FINISH PIE
Finish by baking pie in 350-375 degree oven for 12-15 minuets or until peaks are golden.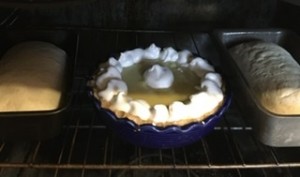 You will let cool down and do not cut..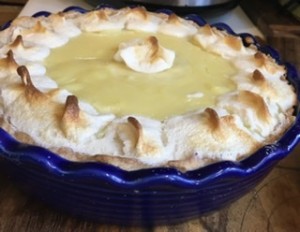 you want to place in refrigerator to chill completely for at least 4 hours or cut next day is better.
Enjoy.