HOMEMADE CRUSTED WHITE YEAST BREAD LOAVES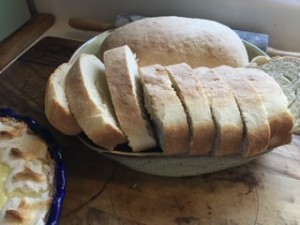 So I tried a different bread recipe today.. the one I usually use has an egg and instead of scalded milk, mine uses water, and instead of  Shortening  mine uses butter.. but this recipe does have a very nice crust.. the inside was enjoyable as well but is a little more dense than my regular bread recipe. I would use this again and would recommend it as I LOVE breads.. but I prefer the other as a go to recipe.
Easy-mix bread recipe using scalded milk
you will use about 5 to 6 1/2 cups of all purpose flour when its all said and done
1 Tbsp Active Dry Yeast  (Or one package)
2 1/4 cups regular milk
2 tbsp sugar
1 tbsp crisco shortening or lard
2 tsp salt
Combine 2 1/2 cups flour and the yeast
Heat milk sugar shortening and salt just till warm and shortening is almost melted. Stir constantly
Add  milk  to the flour mixture  (In my other recipe you dissolve the yeast in the warm water this recipe is backwards it would seem but after reading I found since the yeast is mixed with the flour the temp of the milk mixture can be warmer than the conventional method I am familiar with.  Conventional method (110 to 115, but with this method the milk can be 115 to 120 degrees)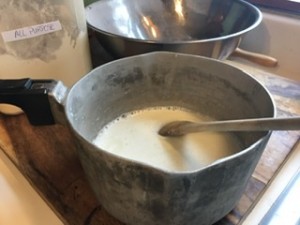 Work flour and milk together for 1 minute aggressively adding a little flour if needed, keep blending until your sticky batter forms into a smooth well blended dough that is not as sticky anymore (If you choose to not do this part by hand and use a mixer with dough hook, you would start out at medium speed for 1/2 minute and then high speed for 3 minutes scraping sides of bowl until all is well blended and smooth)
Stir in as much of the remaining 3 3/4 cups of flour as your dough will allow.. do this gradually as your dough will allow .Turn dough out onto lightly floured surface for  your kneading process..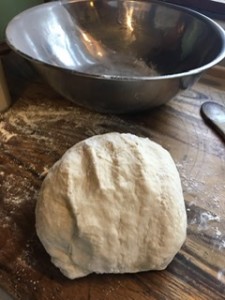 to knead fold the dough over and push down with the heel of the hand, curving your fingers over the dough,
Give the dough a quarter turn and fold over and push down again,.
Kneading is important in determining the final product. It develops the gluten of the flour. If the dough is not kneaded enough the loaf will more likely have a coarse texture, and will probably not rise as high in the pan. Continue kneading in the fold push turn until dough is smooth and elastic.
kneading is not a timed thing, you go by the feel of your dough.. but at least 6-8 minutes for a heavy dough to be plyable
shape your dough into a ball, poke it to see how springy it is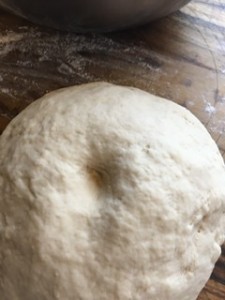 and place into a lightly greased bowl and that is twice as large as your dough ball so it has room to raise, double in size.. (I am using a proofing bread bucket with lid that I purchased it works really great at keeping drafts away) Turn your dough over once you place in bowl so all sides are lightly greased.. keeps it from drying out.. cover well if you don't have a proofing bucket,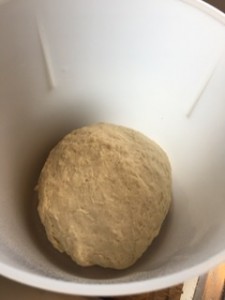 Place lid on bucket (or cloth over bowl)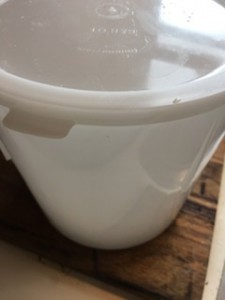 keep in draft free place to retain warmth let dough rise until it doubles in size, usually an hour and 15 minutes or more..
dough should be doubled in size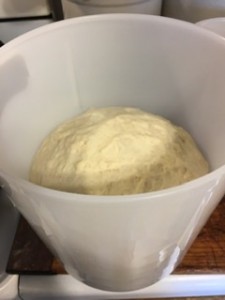 and when you push in with fingers your indentions should remain.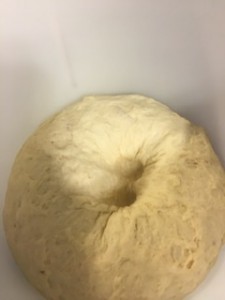 Punch down dough with fist in center of dough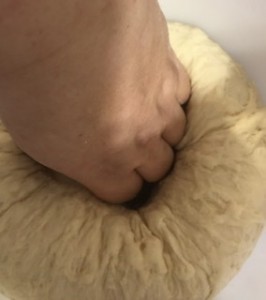 then pull the edges of the dough to the center and turn dough over and place on lightly floured surface.
Divide your dough into two even portions ..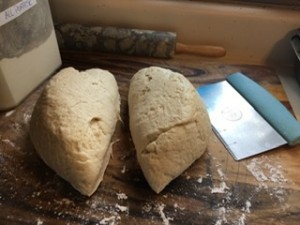 shape each into a smooth ball. and cover with a tea towel that is lightly dusted with flour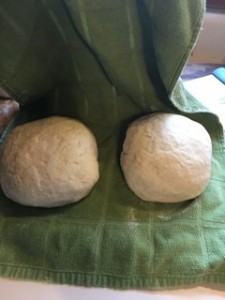 pull tea towel over top the mounds of dough to let rest about 10 minutes. this allows the gluten to relax and makes the dough easier to roll into shape. I stuck my mixing bowl over top my two loaves to help keep draft away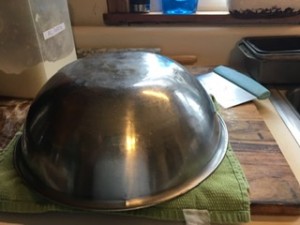 Grease lightly your two 8x4x2 loaf pans .. Shape each ball of dough into a loaf by eating or rolling,
to pat, you just simply and gently hand shape the dough by pulling the dough and tucking in on edges to shape your loaf and drop into the loaf pan.. if you want to shape your dough by rolling out,, just place ball of doing on the pastry cloth that it rested on, and roll out into 12×8 rectangle.. roll up tightly starting with narrow edge seal with fingertips on sides and tuck under place in prepared pan.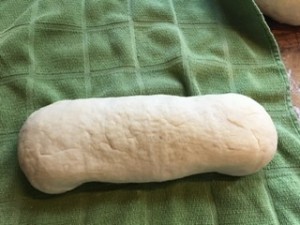 Place in pans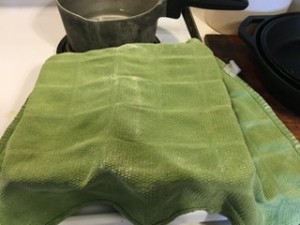 Cover loaves with the tea towel and place in warm spot for second raising (45-60 minutes) dough should rise up beautifully before you place in oven..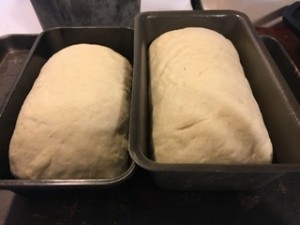 Bake in 375 degree oven for about 40 minutes or until done.. could be sooner so watch your bread.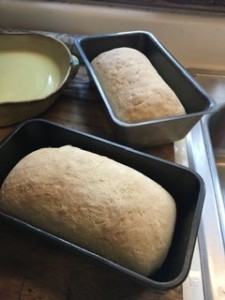 Remove from pans and cool when done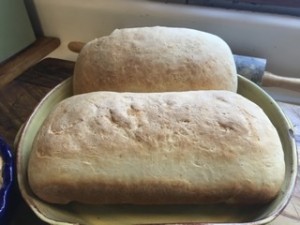 your crust should be crusty with a moist soft center.. use a serrated bread knife to cut. Enjoy while warm with melted butter.