TEST KITCHEN OVEN BAKED POTATOES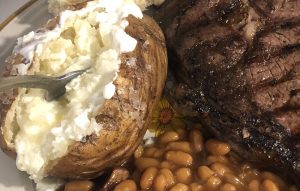 We all know how to make baked potatoes.. I have done them all sorts of ways. Wrapped in foil, on the grill, in the crock pot, in the oven ext.. 
Well this simple recipe came from America's Test Kitchen and it really is fail proof.
Get you a cookie sheet and a wire rack, a bowl some salt, some oil for later and some warm water.
Take your potatoes and scrub them clean. Russet Potatoes are what I use.
Next poke holes with a fork down the side three times, turn over and repeat on the other side .. do all your potatoes  the same way.
I am doing five today.
Set oven to 450
Get you a bowl and add 1/2 cup warm water and add 2 Tbsp table salt to the water stir till dissolved.
Simply roll potatoes in the salted water and add to wire rack and put into oven for about an hour or until the center of potato registers at 205 degrees F
you then take out of oven and brush with Tbsp of vegetable oil and Sea Salt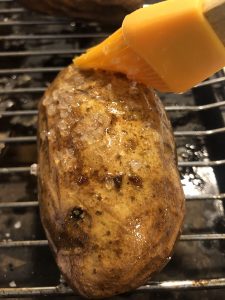 Put back in for ten more minutes and take out and cut down middle and squish ends.. add butter and toppings.. ENJOY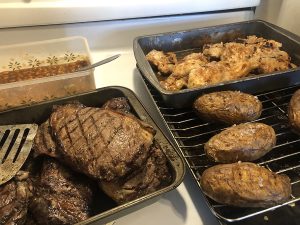 October 2023
M
T
W
T
F
S
S
« Sep
1
2
3
4
5
6
7
8
9
10
11
12
13
14
15
16
17
18
19
20
21
22
23
24
25
26
27
28
29
30
31