These are totally easy to make… and they pack a lot of taste without the calories you would see from my usual chicken meals hahahaha… We love to make these along side of a bottle of really good honey and a bottle of our favorite BBQ Sauce (Bullseye Original)  for extra dipping power.. hope you like it. Serena
SERENA'S SPICY HONEY ROASTED CHICKEN THIGHS
first off you need a pack of thawed chicken thighs and a roasting pan.. one you can add water to the bottom.  Preheat oven to 425 degrees.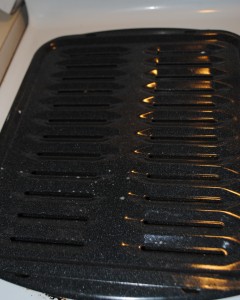 add your two cups of water in the bottom of roasting pan and put slotted lid back on top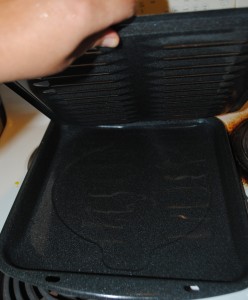 place chicken on top over slats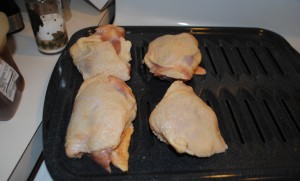 Next in a bowl you will mix your spices..
1/4 tsp red pepper
1/4 tsp rosemary
1/4 tsp celery seed
1/4 tsp pepper
1/2 tsp basil
1/4 tsp poultry seasoning
1/4 tsp paprika
dash salt
tbsp oil
honey
mix together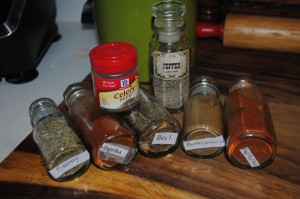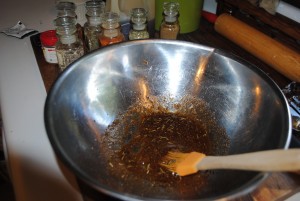 brush on chicken.. tops and bottoms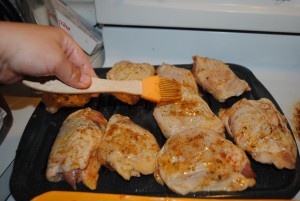 place in 425 degree oven and put timer on for 1 hour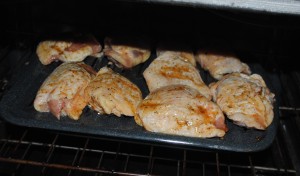 take out of oven before finished (about 10 minutes till) and brush pure honey on top (while it is out check for doneness.. to gauge how much longer you should keep it in oven.. should be almost done at this point but the larger the thigh can mean longer time.. also your thighs should have went into the oven COMPLETELY thawed not frozen in any way.. cause that would definitely add to your cooking time, to check your thighs take the biggest one and turn over jab with knife and if runs clear it is good.. runs red still needs to cook)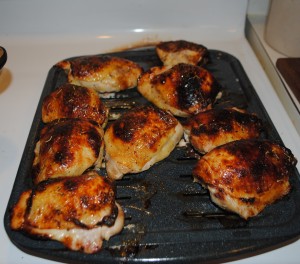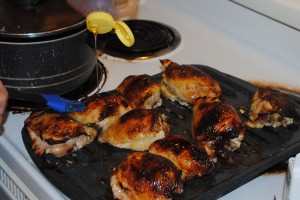 put back in the oven  for 5 more minutes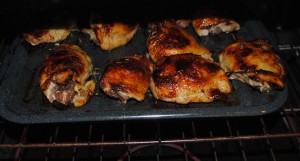 When 5 minutes is up.. turn your chicken upside down and brush with honey and turn onto broil till browns and take out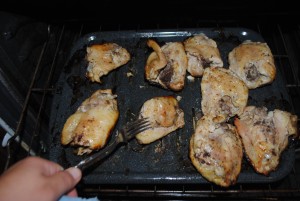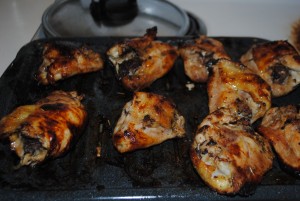 put on plater and let rest a few minutes to let the juices flow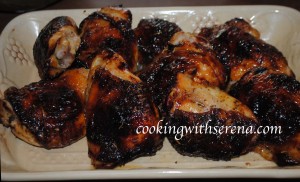 see the fat that you saved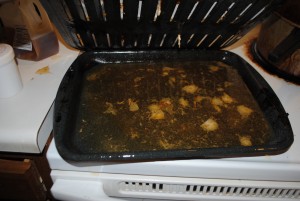 serve your chicken with salad for a light meal.. we served ours with fried perogies (not fat free LOL) and country style green beans,  Macaroni and cucumber slices.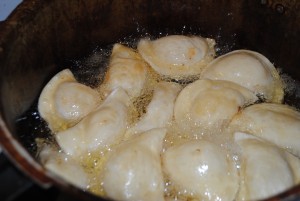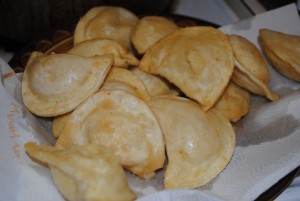 Be sure to have a bottle of GOOD HONEY, and a bottle of BULLSEYE BBQ SAUCE on the table when serving… great for dipping that moist chicken into.. yummy!!!!!!!!!!!!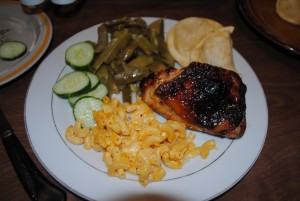 come back now, ya hear