RECIPE AND PHOTO SUBMITTED BY 

Rosetta Sperring

to my face book group.. rosetta has her own blog called Rosetta's Sweet Treats.. link is posted below.. =) check her out
Rosetta writes: I think I'm on a peanut butter kick lately! lol I made these yesterday and they are so yummy. I got the recipe from a co-worker who brought them in to work one day. I had to have the recipe and I'm glad she shared it with me. I named them Iced Peanut Butter Squares…I modified the orignial recipe just a tad.http://rosettassweettreats.wordpress.com/2012/07/08/iced-peanut-butter-squares/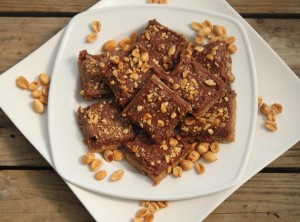 Ingredients
3/4 cup butter, softened
3/4 cup creamy peanut butter
3/4 cup sugar
3/4 cup packed brown sugar
2 eggs
2 teaspoons water
1-1/2 teaspoons vanilla extract
1-1/2 cups all-purpose flour
1-1/2 cups quick-cooking oats
3/4 teaspoon baking soda
1/2 teaspoon salt
Icing:
1/4 cup butter (softened)
1-1/2 cups milk chocolate chips
3/4 cup creamy peanut butter
1 teaspoon vanilla
3-4 cups sifted confectioner sugar
1/4 to 1/2 cup milk
1/2 cup dry roasted peanuts (chopped)
Directions
In a large bowl, cream the butter, peanut butter and sugars until light and fluffy, about 4 minutes. Beat in the eggs, water and vanilla. Combine the flour, oats, baking soda and salt; gradually add to creamed mixture and mix well.
Spread into a greased 15-in. x 10-in. x 1-in. baking pan. Bake at 325° for 18-22 minutes or until lightly browned.
For icing, in a microwave, melt chips and peanut butter; stir until smooth. Mix in 3-4 cups confectioner sugar (adding 1 cup at a time) alternating with milk.  Stir in 1 teaspoon vanilla.  Mix until fluffy.
Smooth out on top of bottom till smooth and creamy. Sprinkle on chopped dry roasted peanuts.  Cool completely on a wire rack before cutting. Yield: 4 dozen.
* If icing is too thick, add more milk, if too thin, add more confectioner sugar.  You want it creamy enough to spread, not too thick and not too thin.