SERENA'S SPICY HAMBURGER CABBAGE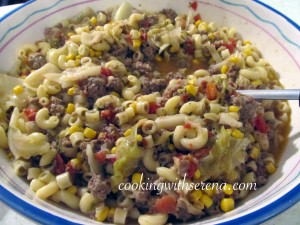 you will start off with a heavy dutch oven, put a little vegetable oil in the bottom unless your meat is very fatty.. mine is very lean, from the butcher. (ground chuck)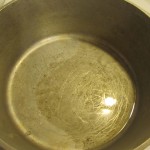 add your burger (about 2 1/2 lbs)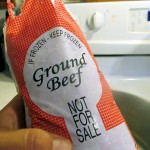 cook with one large sliced onion.. salt and pepper well while meat is cooking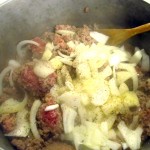 chunk up one small head of cabbage and put on top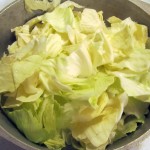 put on your lid turn down heat  and cook down cabbage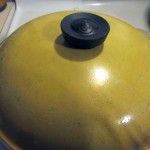 once cabbage has cooked down take off lid and add a couple tbsp of butter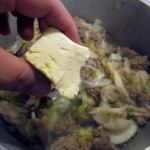 open up 2 cans of Rotel tomatoes.. one of mine is mild and one is Original.. If you do not like heat do not use the original.. only use mild. because you will have some spice from the chiles if you use Original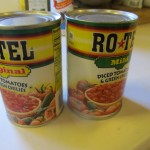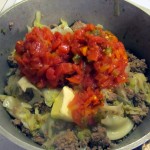 stir in and continue to cook on low heat..
meanwhile you need to boil some macaroni noodles and some ditalini pasta noodles together.. you wont need a ton, just a cup or two I guess. don't measure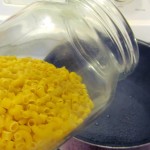 add a little grated parmesan cheese and a pinch of sugar.. just a pinch..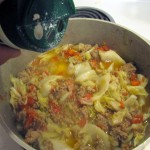 add your drained pasta, but don't get rid of your pasta water.. your going to ladle some of that into the dish too..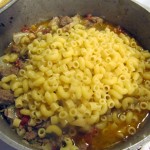 stir in and see how much liquid you have..ladel in a little of the pasta water as needed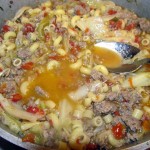 now add one can of drained sweet yellow corn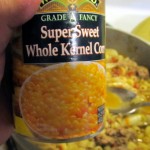 taste.. adjust seasonings as  needed.. (salt pepper sugar)
Make some fresh Cornbread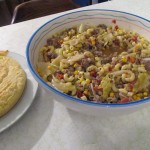 Enjoy.. we had ours with  Sweet Cornbread and Honey.. With Fried Chicken Legs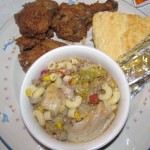 NOTE.. for completely new dish for next days supper.. you can make a homemade  Marinara Sauce and mix it with your cabbage dish.. you may have to drain off some of the liquid from your cabbage dish first if yours was extra soupy.. but delish and whole new dish!!
Oh and don't forget dessert..  =) Peach Upside Down Cake mmmmm