RECIPE AND PHOTO SUBMITTED BY Ted Crawford
here's one a friend from Canada sent me. It was delicious.
Pork Adobo on rice (Pork, Soy Sauce, White Vinegar, Pepper Corns, Bay Leaves & Garlic) with the addition of Pea Pods, Green & Yellow Zucchini and baby Red Potatoes.

It's more a French Canadian, but I added the Pea Pods, Zucchini & Potato. Can't resist altering recipes people give me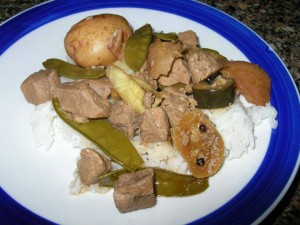 Pork Adobo
4 lbs. pork butt or shoulder roast (or pork loin is leaner) cubed in about 1″ cubes.
1 cup soy sauce
1 cup white vinegar
2 cups water
1 tsp pepper corns (whole)
3 bay leaves
at LEAST 3 cloves of garlic
Plop it all in a pot making sure the pork is covered.
Bring to a mild-to-medium simmer and let it reduce for about an hour.
Serve over rice.
(I added the following)Adding pea pods, zucchini, water chestnuts and/or baby red potatoes to pot optional.
The pepper corns and vinegar give it a unique flavor! Try it, you'll like!!