RECIPE AND PHOTOS SUBMITTED BY Alexandra Lim (moderator of TRIED AND TRUE RECIPES FB)
This is called Basque Burnt Cheesecake, a specialty from La Vina restaurant in San Sebastian, Spain.
It's light and fluffy inside and the aroma is just out of this world. I served it with freshly made strawberry sauce but on its own us just as good.
Only 5 ingredients, cream cheese, eggs, heavy cream, flour, sugar baked in a very hot oven to get that burnt look top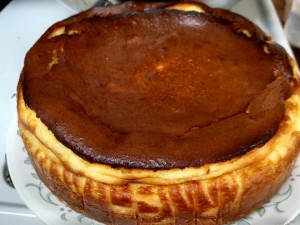 SPANISH BURNT CHEESECAKE
2 pounds Philadelphia Cream Cheese
1 3/4 cups castor sugar
7 whole eggs
2 cups double cream OR heavy whipping cream
1/4 cup flour Preheat oven to 425 F.
Grease a 23cm spring-form pan and line with parchment paper, making sure the paper comes at least three inches above the top of the pan. In the bowl of an electric mixer, cream together the cream cheese and sugar until smooth.
Add the eggs one at a time, making sure to scrape the sides of the bowl a few times. Pour in the double cream and mix until incorporated. Fold in the flour with a rubber spatula. Pour batter into the prepared pan and place into the center of the oven.
Bake for 50-60 minutes, or until the top is deeply golden and the center barely jiggles. Let cool completely before removing the sides of the pan.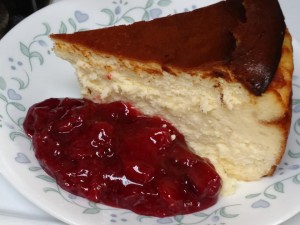 May 2023
M
T
W
T
F
S
S
« Feb
1
2
3
4
5
6
7
8
9
10
11
12
13
14
15
16
17
18
19
20
21
22
23
24
25
26
27
28
29
30
31