QUESO CHICKEN SPAGHETTI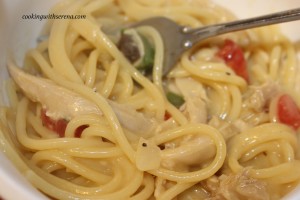 Ingredients
1-2 lbs (Skinless- boneless) Chicken thighs or breast
Water for boiling
2 chicken bullion cubes
1 onion chopped
Half of one green bell pepper
Half of one red bell pepper
1/2 stick butter
1 can Original Rotel tomatoes
1 small garlic clove minced
Salt
Pepper
Parsley
Parmesan Cheese
Velveeta Cheese or can use White QUESO Cheese, Mild for more kick (Cut in large cubes – about 1 cup)
Box Spaghetti noodles
1 can cream of chicken soup
1 can cream of mushroom soup
Chicken broth
Directions
Start out by bringing some water to boil with two chicken bullion cubes.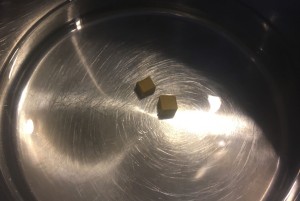 add to pot  your rinsed skinless- boneless chicken pieces.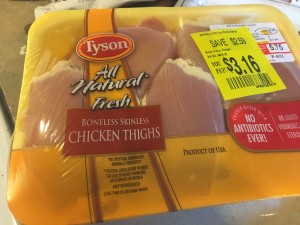 Do not over boil or it will be rubbery.. boil just until tender and cooked through.
While boiling, chop up 1 whole onion and 1 garlic clove minced, chop up bell peppers, I am using half of a red and half of a green, but you do it to your taste.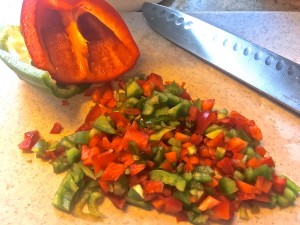 place chopped veggies in bowl and put to side.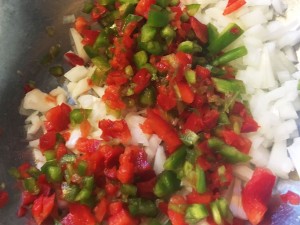 Chicken is done now.. take out chicken with tongs and place on cutting board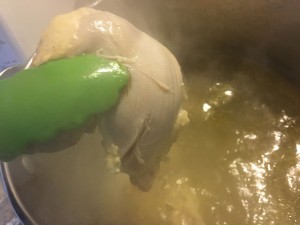 Salt and pepper well.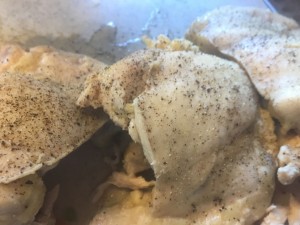 Use two forks and shreds chicken. If any fat on chicken, be sure and throw it out.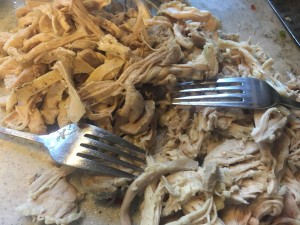 Meanwhile, use broth and same pot that you had chicken in and boil your spaghetti noodles.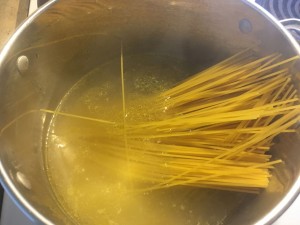 While noodles are boiling, grab a deep pan or pot and put  1/2 stick or so of butter in with your chopped veggies.
Stir. let it cook a little then add in chicken.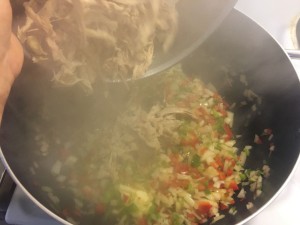 Add Rotel, (undrained)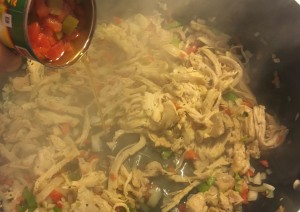 I also add at this time 1 regular size can of cream of chicken and 1 cream of mushroom soup.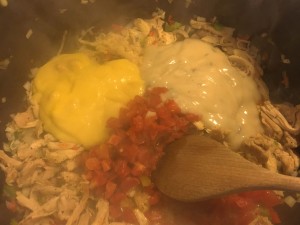 Add in your cut cubes cheese.. if you want mild taste use velveeta if you like a bit more spice use the QUESO white cubes cheese .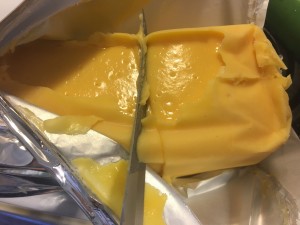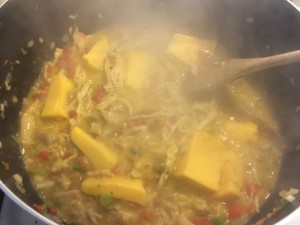 Add in spaghetti noodles when Aldente.Stir add in 2 ladles of the broth from the boiled noodles.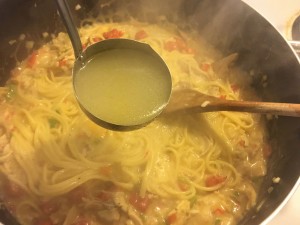 Add Parmesan Cheese. Shake in a little parsley flakes ..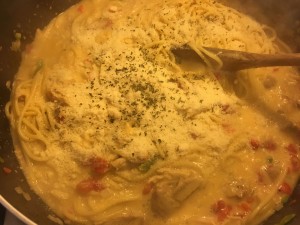 At this point after it all comes together, you can add in more of the broth from noodles or some straight chicken broth to make it the consistency you want..
I like mine on  the loose wet side not thick but hey its all up to the cook .. do what you like .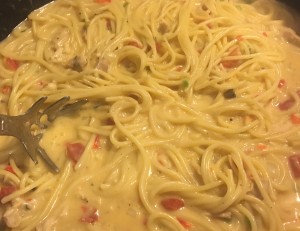 enjoy with breadsticks and corn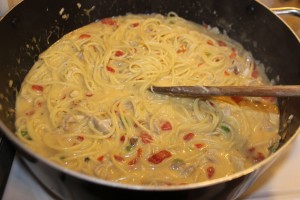 For dessert I made some Rice Pudding with Raisins to keep in with the Mexican theme.. .