Made some chicken legs today a little different than my usual .. they were really moist and delicious..
Slow Fried Ranch Chicken
Marinate chicken legs in gallon bag night before with a pouch of dry ranch seasoning and squirt some buttermilk ranch in there as well .
Next day before frying put some self rising flour in a bowl, add a couple tbsp of corn starch and a good bit of paprika, black pepper, garlic powder and a shake of soul seasoning. Mix together with fork.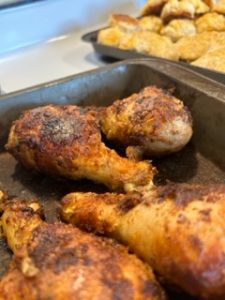 Heat skillet or chicken fryer up add some oil in bottom and once popping dip marinated chicken in flour mixture , shake off excess and lay in hot oil. Fry low and slow .. this will take a while this method but will be extremely juicy and tender.. I turn up and back down when gets too hot .. don't rush it ..
once done serve with cheddar biscuits and mashed potatoes broccoli and cheese
I make my own cheddar biscuits out of the leftover seasoned flour from my chicken coating I will post that as well .
October 2023
M
T
W
T
F
S
S
« Sep
1
2
3
4
5
6
7
8
9
10
11
12
13
14
15
16
17
18
19
20
21
22
23
24
25
26
27
28
29
30
31