Since it was snowing today I decided to try out another one of the wonderful recipes from the cook book my hubby got me for Christmas. I made Hearty Beef Vegetable Stew from page 24 of Taste of Home Slow Cooker recipe book. It is magnificent!!! Yummy, yummy, yummy! And just exactly what our bellies called for on this snowy day! Here's the recipe if anyone else would like to try it. Good luck and enjoy!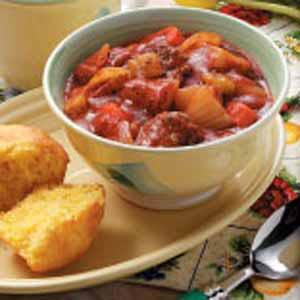 SLOW COOKER HEARTY BEEF VEGETABLE STEW
Ingredients
1-1/2 pounds boneless beef chuck roast, cut into 1-inch cubes
2 teaspoons canola oil
1-1/2 pounds red potatoes, cut into 1-inch cubes
3 medium carrots, cut into 1-inch length
1 medium onion, chopped
1/2 cup chopped celery
1 can (28 ounces) crushed tomatoes, undrained
3 tablespoons quick-cooking tapioca
2 tablespoons dried basil
1 tablespoon sugar
1/2 teaspoon salt
1/8 teaspoon pepper
Directions
In a large nonstick skillet, brown meat in oil over medium heat. Meanwhile, place the potatoes, carrots, onion and celery in a 5-qt. slow cooker.
Drain meat; add to slow cooker. Combine the tomatoes, tapioca, basil, sugar, salt and pepper; pour over the top.
Cover and cook on high for 5-6 hours or until meat and vegetables are tender. Yield: 6 servings.