SERENA'S SEMI HOMEMADE – FAST CHICKEN SALAD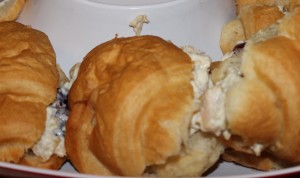 So this Chicken Salad is done on the fly.
It tastes wonderful and no one will be the wiser that you took shortcuts.
1 cup Kraft Mayonnaise
2 yellow delicious green apples peeled and sliced very thin
1 small bag of red seedless SWEET grapes, sliced in halves
1 – 2 sticks celery sliced very thin
2 large cans Chunked Chicken drained and use fork to gently pull chunks apart.. don't make into mush.
2 of the quart size chicken salad cups you buy at Sam's Club
toss ingredients well, chicken last as not to turn to mush.. fold in chicken with fork.
serve on sliced crossaints you can also buy at Sams Club.
Enjoy.. Easy Party Food on the Fly for your guests
July 2022
M
T
W
T
F
S
S
« Jun
1
2
3
4
5
6
7
8
9
10
11
12
13
14
15
16
17
18
19
20
21
22
23
24
25
26
27
28
29
30
31