Scratch Apple Crumble Pie
An Apple Crumble Pie is one of my most favorite pies.  These pies are best made the night before you eat them, so it can set up nicely  for cutting and you get maximum crisp on the top sugary crust, but never fear, it will still be good if you can't resist and decide to cut into it right away.. just have some handy vanilla ice cream on hand.  I don't have exact measurements because well some recipes we just can't but I will do my best to share.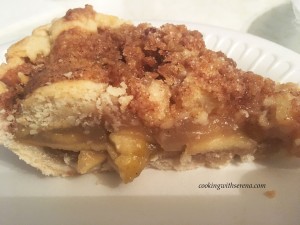 4-5 big yellow delicious apples peeled, cut thin slabs (I use an apple peeler, and break them up with my  hands.)
Place apples in sauce pot with just a TINY amount of tap water and start on high heat.let it go a minute or so and Add in granulated sugar and brown sugar .. keep stirring with wooden spoon. Can shake in a little cinnamon if desire at this point.
Meanwhile mix in a cup, some cornstarch (about 3-4 TBSP) mix with a bit of water, just enough that it's pourable .. then once your apples start to cook down and apples are tender you then add in cup of corn starch mixture .. turn down heat and stir .. it will thicken .. taste and take off heat set aside ..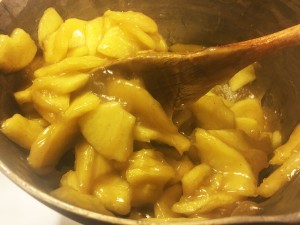 Next make crust
Flaky Pie Crust Dough
(this recipe below makes only one pie crust- you will need to make it twice, one for top and one for bottom.. you can  double recipe but I like to do mine separate usually just because pie crust is so finicky)
1 1/4 c All Purpose Flour
1 Tbsp Sugar
1/4 tsp salt
1/2 cup cold butter cut into cubes
3 Tbsp Ice Water
*NOTE : Can do by hand or with Food Processor… it is quicker to use the food processor .. but either way is easy.
simply add all dry ingredients, pulse (or stir) then add in cubes of butter pulse 8-10 times (or if by hand use pastry cutter or forks until pea size balls) then add in ice water, pulse 10-12 times (or if by hand tossing with fork or pastry cutter until all is moist and dough starts to pull together) do not over mix or dough will be tough.. under mix and will be too crumbly and will be hard to work with.
Once dough is ready, gently take out and place onto waxed paper and flour your rolling pin. Flaky crust must be rolled out right away and should not be put up for refrigeration..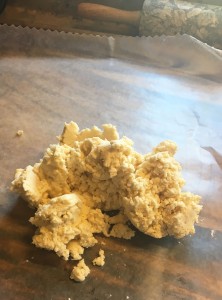 I am using the flaky crust recipe X2
For a bottom crust and a top lattice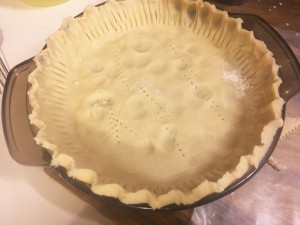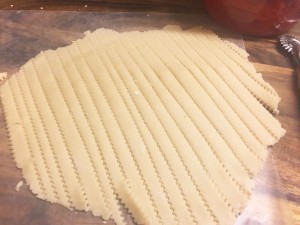 Add your filling to your pie bottom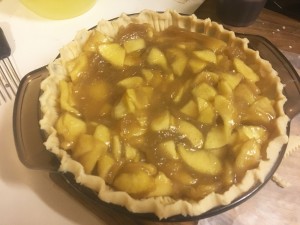 Weave a lattice.. don't get fancy or worry about it much.. it will get a crumble topping anyways.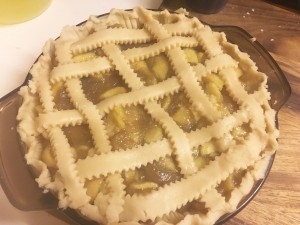 Mix crumble
Add in foood processor, some oats, white sugar, brown sugar, a little flour, a tab or two of butter a shake of cinnamon. Pulse a few times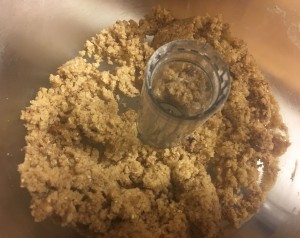 Sprinkle over top of lattice pie add a little white sugar over top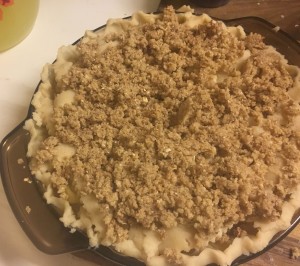 Bake 49 minutes at 350
Last couple of minutes can be under broil to brown crust if desire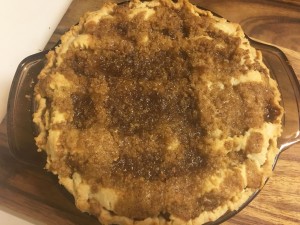 My most favorite thing about these Southern Crumbles is the Crust..
Candied goodness over top a flaky crust..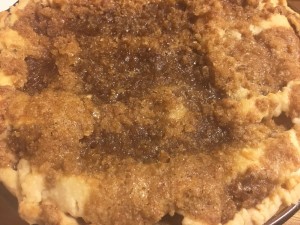 mmm mm mm bring on the ice cream.
Enjoy!