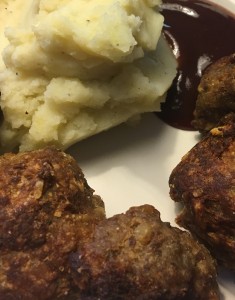 In a Routine Rut?
Looking for new supper ideas that the family will enjoy?
I totally understand.. we get into a sort of pattern and we find ourselves after a while bored with our routine favorites so that's when we need to add new or reinvent old recipes.
Here is one example. I fry meatballs often but my hubby can not eat spaghetti and meatballs as often as I can so here is a great compromise that the whole family enjoys for a change. Fry up your homemade meatballs and make some mashed potatoes or perogies and add a little Sweet Baby Rays BBQ Sauce to dip those warm meatballs you fried in. YUM! A perfectly new meal from an old recipe .. enjoy your food, don't get into that rut we all fall in.
Post some of your rescue meals for when your in a routine rut.