SAVORY ROASTED RED PEPPER MUFFINS WITH SPINACH AND FETA CHEESE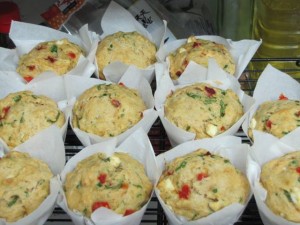 makes 12 standard muffins
2 ¾ cups whole wheat pastry flour or all-purpose flour (or a combo)*
2 teaspoons aluminum-free baking powder
1 teaspoon paprika
¾ teaspoon sea salt
pinch of cayenne pepper
¾ cup whole milk or unsweetened plain, hemp milk
½ cup unrefined olive oil
2 Tablespoons maple syrup
2 large eggs
1 cup thinly sliced spinach leaves
¾ cup crumbled feta cheese
½ cup chopped roasted red peppers or drained mild Peppadew peppers
Preheat oven to 375 degrees.  Line 12 standard muffin cups with unbleached parchment paper liners (or cut parchment paper squares to fit.)
Whisk flour, baking powder, paprika, salt and cayenne in a medium bowl.
Whisk milk, oil, maple syrup and eggs in a large bowl and combine well.
Add dry mixture to wet and stir until just combined.  Fold in spinach, feta and peppers.
Divide batter evenly among prepared muffin cups.  I use a large ice cream scoop to do this.
Bake muffins until a toothpick inserted into the center comes out clean, about 25 minutes.  Cool 5 minutes and then transfer to a wire cooling rack or eat warm. Best eaten the same day that they're made.