Hello, Good night from Spain… My dinner, Rolled Frittatine, are omelettes stuffed with fresh mozzarella, topped with tomato sauce and oregano. We enjoy eating.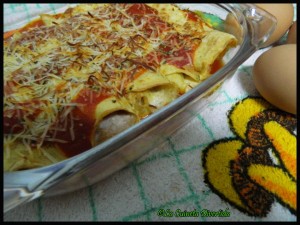 ROLLED FRITTATINE
The Rolled Frittatine are stuffed with mozzarella totillas a fresh, covered with tomato sauce and oregano, oregano optional.
INGREDIENTS:
3 eggs,
mozzarella cheese
4 tablespoons milk
28g flour
2 tablespoons Parmesan
cheese emmental
tomato sauce and oregano
PREPARATION:
mix the eggs with a little fine salt, flour and milk.
Once well blended add the Parmesan.
'll In a skillet a few drops of olive oil, and make tortillas over low heat, from either side until we are golden.
When we cold, cut the mozzarella into pieces and wrap elongated with each tortilla or rolled.
In a glass bowl put the tomato sauce, tortillas left over, cover with sauce and sprinkle with cheese emmental.
Gratinamos and we already have …..
July 2022
M
T
W
T
F
S
S
« Jun
1
2
3
4
5
6
7
8
9
10
11
12
13
14
15
16
17
18
19
20
21
22
23
24
25
26
27
28
29
30
31