Recipe and Photo posted by : Rina Castillo Trochman posted to TRIED AND TRUE RECIPES
Dinner was scrumptious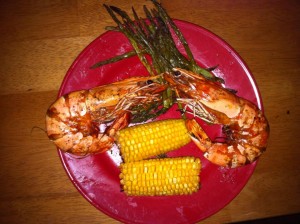 Rosetta -I think this would be a snack for me! Look great Rina! I wish my tummy was as small as yours! I do love shrmp, I better, I live in Florida along the Gulf. The shrimp look so yummy!
Rina– They are Tiger Prawns, I barely ate the 2 on my plate. Very filling. They were super tasty. I am a chunky monkey by the way  I love my groceries
Rosetta – lol, chunky monkey, now that's cute Rina! lol
Serena -Be still my heart
Serena – Tell us how you fix your prawns .. I know butter lemon and garlic are involved.. LOL
Rina –Nope, I used salt, pepper, cayenne and a drizzle of olive oil, then I put it on a baking sheet and baked them on 425 for 12 minutes. They were so juicy and good.
Judith -YUM!
Serena – Well they sure look good… even if you didn't use butter and garlic.. hahahaa