MY RECIPE FOR 3 EASY WINTER FAMILY POT PIE FILLINGS
OKAY… so our West Virginia winters will be here before you know it. Now with me working, sometimes I need a head start on our comfort meals.. Today I will show you one quick and easy way to be prepared. This recipe makes 3 full size family recipes.
I usually mix it all up… make one pot pie to eat, and then bag up and label the other two, freezing them so they will be ready when I need them come winter.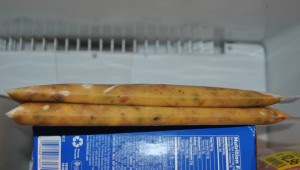 You can use shredded chicken, Shredded turkey, already canned chipped beef, or deer meat as your meat to go in your fillings.
Today I have some chicken legs, a huge family pack that needs something done with stat.. they been in my freezer a while so I need to use them up.. plus chicken pot pie is our favorite, and did you know that the dark meat on chicken is very very flavorful. But you can use some boneless chicken breasts too, I have done that, and the plus with those, no skin or bones to pick out later.. haha
okay so before bed, Sat night I threw them in the crock pot, put it on low, and added a large cup of water. I took some celery stalks and leaves and chopped up then i added a whole chopped onion, salt and pepper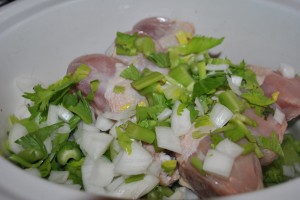 let the meat literally get to where it comes right off the bone., Sunday morning I just took the bones and skin out of the crock.
I get me a big stainless bowl and I add a can of peas, a can of corn, a can of green beans, a can of new potatoes, and of course I cut the new potatoes up. add what you like.. if you like carrots then throw some in
I add a little salt and pepper, and stir in 2 family size cream of chicken soup cans,
Now strain off most all of the broth from your chicken and add it over into the veggies..
Then I stir it all together..
I take my casserole dish I am using for today's Sunday Pot Pie Dinner and I ladle in enough for that  and cover the top with Crescent Roll Dough.. (you can make your own  topping easy also.. many different choices,  with self rising flour oil and water, or pancake mix, or biscuit topping, or homemade pie dough over top is really good, can even do a bottom or individual pot pies , choices are endless)
Put into oven and bake at 400 degrees for 25  minutes and take out and enjoy!
Now the rest of the pot pie filling you will separate into two family size batches or as needed for your household.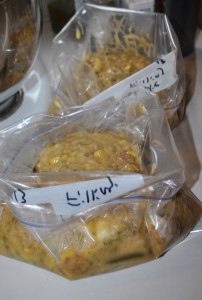 I put mine in labeled ziplock baggies.. lay them flat get all the air out and put on a cookie sheet to freeze.
When they freeze flat you just take out the cookie sheet an stack your freezer fillings wherever you like. And just don't forget they are there come winter.. when you want a pot pie for dinner , just stick your frozen bag in the fridge to thaw so you can make that pot pie in a flash when you get home from work. =)
As you can see it went very fast..
PS for my pot pie recipe made from scratch , visit this website to find that one.. it is also very yummy if you have the time one day to try it.