RECIPE AND PHOTO SUBMITTED BY Raquel Burson
RAQUEL'S CAST IRON DEEP DISH PEACH PIE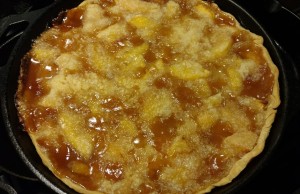 Pie crust, put in a 10 inch cast iron skillet.
I had four softball size peaches. Peeled, slice and pit.
To peaches add one and a half tablespoons lemon juice, 2 tablespoons cornstarch, half teaspoon cinnamon, quarter teaspoon nutmeg,
quarter teaspoon almond flavoring, 1/2 cup sugar. Stir well.
In food processor, blitz 2 tablespoons butter, 3/4 cup sugar, 1/3 cup flour.
Pour peach mixture into shell, top with sugar mixture.
Bake at 450 for 10 minutes, then reduce to 350 and bake another 40 minutes.
Serve with vanilla ice cream and enjoy