PUMPKIN CAKE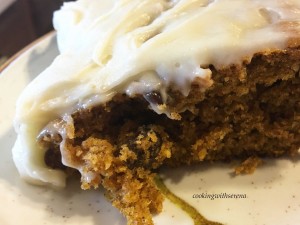 1/2 c shortening or butter
2 cups sugar
2 eggs
1 Tbs Cinnamon
1/2 tsp ginger
1/2 tsp nutmeg
1/4 cloves
2 c All Purpose Flour
3 tsp baking powder
1/2 tsp baking soda
1/2 tsp salt
1/2 cup chopped nuts (optional)
1/2 cup – cup raisins (optional)
3/4 c milk
1 can Libby's original Pumpkin
Cream Shortening add sugar add eggs one at time mix together all dry ingredients add alternately with milk add nuts  and raisins if using mix well.  Pour intp 9×13 or into two 9 inch round pans bake at 350 for 30 minutes or till done.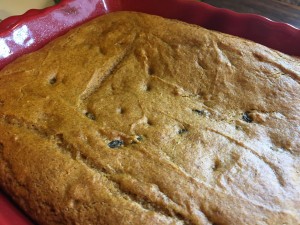 Make Cream Cheese Icing for top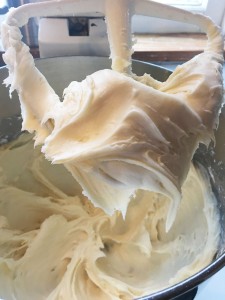 Cream Cheese Frosting
1/2 cup butter, softened
1 (8 ounce) package cream cheese, softened
3 1/2 cups confectioners' sugar
1 teaspoon vanilla extract
In a large bowl, cream 1/2 cup butter and cream cheese until smooth.
Beat in 1 teaspoon vanilla. Add confectioners sugar, and beat on low speed until combined, then on high until frosting is smooth.