Photo and REcipe Submitted By Suzanne Bond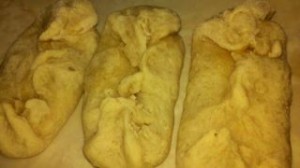 Nut rolls :
dough-
2c. vanilla icecream( let sit out for a few mins)
4c. all purpose flour
1lb.butter
nut mixture-
4c. walnuts ( chopped),
3c. sugar,
1 stick butter,
1 tsp vanilla,
1/4c. milk
* flour and sugar to roll dough in
mix all ingredients for dough together, shouldnt be too sticky. mix all ingredients for nut mixture together. Take a bit of dough and roll into a ball dip in the flour /sugar mixture and flatten out. place a bit of nut mix in the center ( about a tsp, you dont want it too full or the cookie will burst while cooking and mixture will ooze out…still yummy though!) overlap center then fold up ends and crimp together.
Place on cookie sheet and bake at 350 for 15 to 20 mins.
( my mother has a grinder that chop the nuts into small pieces which I like best, the dough isnt to sweet but goes well with the sweetness of the nut mixture)