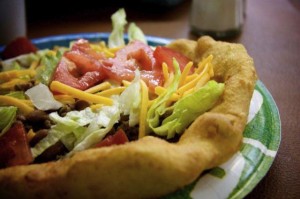 Navajo Tacos:
1 pound lean ground meat (beef, lamb, venison or pork)
1 cup diced onion
4 cooked Navajo Fry Breads
1 head iceberg lettuce, shredded
3 tomatoes, diced
2 cups shredded sharp Cheddar cheese
1 can of ranch style beans, drained
Sour cream (optional)
In a large frying pan over medium-high heat, brown ground meat, beans and onions until cooked; remove from heat.
Place Fry Bread, cupped side up, on separate plates. Layer ground meat mixture, lettuce, tomatoes, and Cheddar cheese onto top of each Fry Brad. top with sour cream, if desired, and either roll up or serve open-faced with a fork.
Makes 4 servings.
(recipe goes with the Navajo Bread also found on this site)