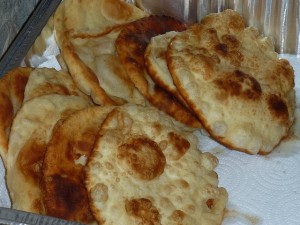 Serena, here is a long time family favorite around my house.
Navajo Fried Bread:
Can be used as a dessert or used as the main dish.
This will make 4 fried bread you can double or triple this recipe to accommodate your family.
1 cup unbleached flour
1/4 teaspoon salt
1 teaspoon powdered milk
1 teaspoon baking powder
1/2 cup water
Vegetable oil for frying
Sift together the flour, salt, powdered milk, and baking powder into a large bowl. Pour the water over the flour mixture all at once and stir the dough with a fork until it starts to form one big clump.
Flour your hands. Using your hands, begin to mix the dough, trying to get all the flour into the mixture to form a ball. NOTE: You want to mix this well, but you do NOT want to knead it. Kneading it will make for a heavy Fry Bread when cooked. The inside of the dough ball should still be sticky after it is formed, while the outside will be well floured.
Cut the dough into four (4) pieces. Roll dough flat about 5 to 7 inches in diameter. Not to thin, you want this to be at least ¼ thick.
Heat the vegetable oil to about 350 degrees F. NOTE: You can check by either dropping a small piece of dough in the hot oil and seeing if it begins to fry, or by dipping the end of a wooden spoon in and seeing if that bubbles. Your oil should be about 1-inch deep in a large cast-iron skillet or other large fryer.
Take the formed dough and gently place it into the oil, being careful not to splatter the hot oil. Press down on the dough as it fries so the top is submersed into the hot oil. Fry until brown, and then flip to fry the other side. Each side will take about 3 to 4 minutes.
Indian Fry Bread can be kept warm in a 200 degree F. oven for up to 1 hour. They refrigerate well and can be reheated in a 350 degree F. oven for 10 to 15 minutes before serving.
If serving alone, sprinkle with powdered sugar or top with honey! It is delicious!
(recipe goes with Navajo Tacos also on this site)
May 2023
M
T
W
T
F
S
S
« Feb
1
2
3
4
5
6
7
8
9
10
11
12
13
14
15
16
17
18
19
20
21
22
23
24
25
26
27
28
29
30
31