My own recipe for a Tuna Melt developed over the years…I almost hate to give away my secret. But I'd rather share it with you all here. See recipe below.
I've never written it down…I always go by feel. I'll give you the ingredients and you can figure the ratios. Albacore Tuna, sauteed Yellow Onion & Mushrooms, rough chopped Green Olives with Pimento, Mayonnaise & Lemon. Sometimes I will add chopped Water Chestnut for crunch. I prefer it on Pumpernickel or Rye. The best cheese is either a Cheddar, or my favorite is any cheese with Caraway seeds in it. Play with it.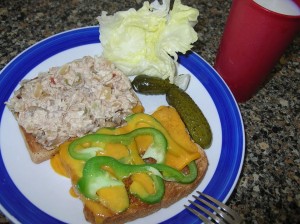 4 5-oz cans Albacore Tuna
3 medium Yellow Onions
2 4-oz cans Mushrooms Pieces & Stems (Sautee Onions & Mushrooms in Olive Oil)
15-16 Green Olives with Pimento
2 heaping tbls Mayonnaise to taste – not too much
juice from 3/8″ slice of Lemon
(optional 1 5-oz drained can Water Chestnuts – chopped) Don't stir it too much.