HOMEMADE CALZONE'S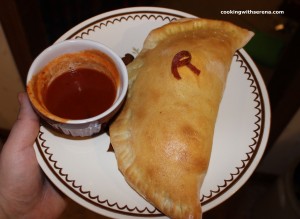 Family Favorite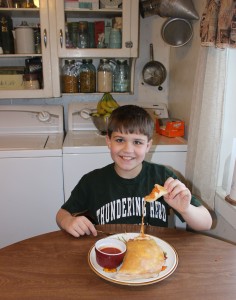 I use the same Basic Bread Recipe for rolls pizza calzones stromboli's, sticky buns, pepperoni rolls, meat rings ect…..
My friends Cindy Tucker and Brenda Johnson (sisters)  gave me this recipe they got it from a old school cafeteria cook.. it is easy and delicious..
BASIC BREAD RECIPE
Get you a great big mixing bowl (cafeteria size) in it put
2 1/2 cups of good all purpose flour
about 1/2 cup of sugar
2 Tsp salt
2 pkg's of Rapid rise yeast like fleiscmann's,
in a SEPARATE bowl
take 1 egg
1 stick of butter
2 cups of Hot Water
try to mix up best you can with a fork the hot water will melt the butter as you work at it with the fork…..then take 3/4 of the liquid and start slowly adding to the flour mixture…. use a wooden spoon till gets to a loose ball….. add the rest now
at this point take about 2 cups of flour and start to knead into the ball you may have to add a little more until it is not so sticky (it's according to the humidity and temp)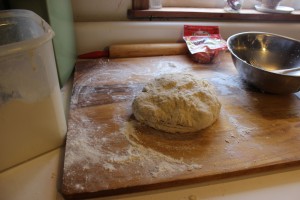 ….. make it smooth put into sprayed or lightly oiled large bowl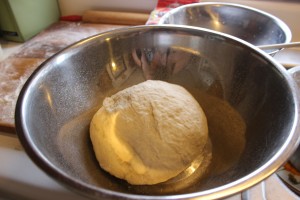 and put in a warm spot with a towel over top for 1 hour it will double in size…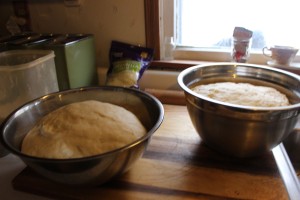 at this point if you are making dinner rolls you punch back down and let rise again, BUT since  you are making a Calzone you don't have to let rise again
…. take some flour and  cornmeal dust your bread board…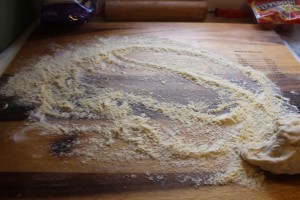 then start pinching off dough and roll it out  into circle over sprinkled flour and cornmeal , then stretch it out to the size your comfortable with, dough should be thin, but not so thin it breaks open..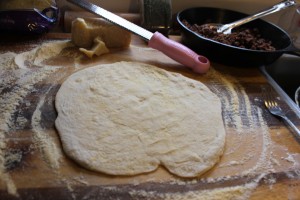 then add your filling..
your filling is totally up to you.. Calzones have no rules… but you do have to be careful not to overfill
you can leave it without sauce and choose to dip your sauce or you can add the sauce.. NOTE if you do choose to add sauce don't make it too thick.. you want your bread to be crusty not soggy..
Filling ideas

pepperoni
cheese
ham
mushrooms
onions
peppers
tomatoes with minced garlic
Salami thinly sliced
Prosciutto
spinach
Hamburger and or Italian Sausage -cooked and drained
salt and pepper
Parmesan cheese
Ricotta
Banana peppers
Pick whatever you want … don't fill to full… I am making everyone's different today.. Paul wants sausage beef and pepperoni with cheese and sauce.. Randy wants only pep and cheese since we are out of mushrooms.. . Jesse wants sauce cheese and peep.. I want veggies and cheese in mine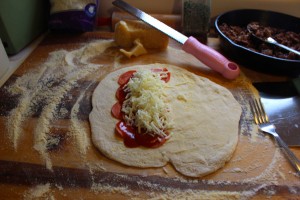 NOTE- if adding cooked beef and sausage .. drain and blot well in paper towels before adding to calzone..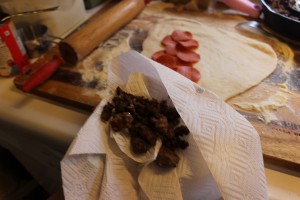 fold your dough over  like a half moon and pinch ends to seal…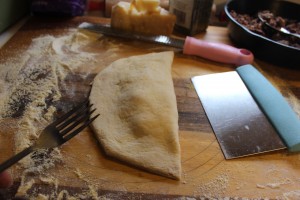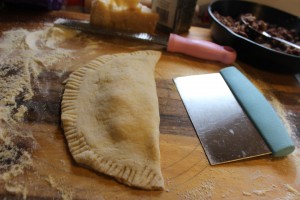 place on a lightly sprayed sheet- I used pepperoni to mark the initials on my boys calzones so I'd know who's was who's
and bake at 400 for 15 to 20 min (according to your oven)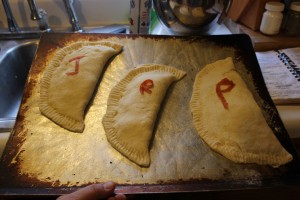 when almost done brush the tops of the bread with melted butter….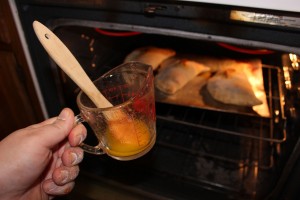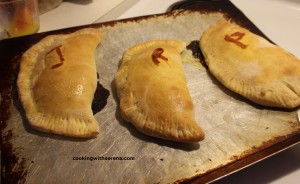 tops should be puffed and slightly golden with crisp edges .. let sit a few minutes before serving.. will burn the mouth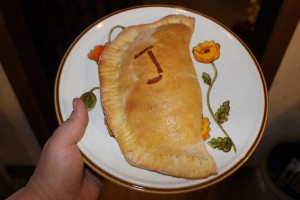 best eaten when HOT and CHEEZY… =P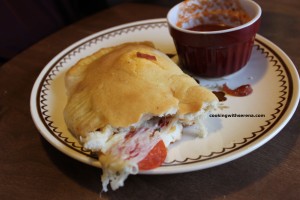 my boys LOVE them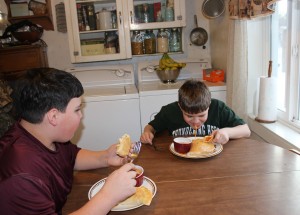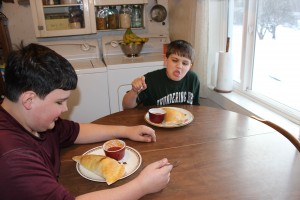 Old pic of Randy 2009 Chowing down on a  Hot Calzone..