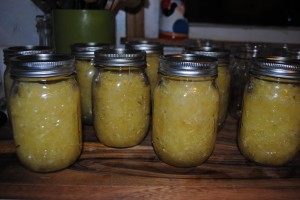 THERE ARE TWO VERSIONS OF THIS RECIPE POSTED… the original and MY version..
Original Recipe:
1 gal. of coarsely ground zucchini
46 oz. can unsweetened pineapple juice
3 c. sugar
1 oz. pineapple flavoring (opt.)
1 1/2 c. lemon juice
Combine and simmer 30 minutes.
Fill pint jars and process at 8 pounds pressure for 10 minutes. Use as a substitute for canned crushed pineapple
.OK so THAT up top was the original recipe… I changed things up a bit…  I did it like it said except for I added TWO cans of crushed pineapple with the juice after I drained my zucchini juice… I then put it in 9 pint jars and it was perfect amount I didn't need to add anymore juice. I did taste it and it tasted great… If I get a lot more zucchini this year I will make the Original version up top and compare the two.  I think my version is better though hahahahahha can't go wrong with REAL pineapple in the recipe..
Below are some pics of the process.. except I didn't use the Pineapple juice…
you need quite a bit of zucchini for this recipe so don't start it if you don't have plenty
start to grate or shred your zucchini.. I have found this old time shredder works BEST for my zucchini I LOVE IT.. it goes so fast and does not waste a BIT of zucchini.. leaves only pealing..
you will need a gallon which = SIXTEEN CUPS
start adding your ingredients I added two cans of REAL crushed pineapple and juice after I drained the zucchini of it's natural juices.
Don't forget to add your sugar yum yum ..
MAKE SURE you add your water to the line in your canner before putting your jars in
Wait until you get steady STEAM coming out before you put on your weight.
September 2021
M
T
W
T
F
S
S
« Jul
1
2
3
4
5
6
7
8
9
10
11
12
13
14
15
16
17
18
19
20
21
22
23
24
25
26
27
28
29
30