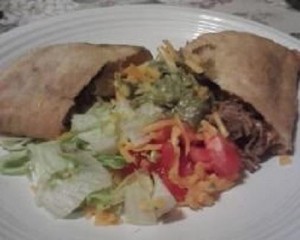 Marlaritas
1 pound lean roast beef or sirloin steak
1 cup diced onion
4 un-cooked Navajo Fry Breads
1/2 head iceberg lettuce, shredded
1 tomatoes, diced
2 cups shredded sharp Cheddar cheese
1 can diced green chili
Guacamole (optional)
Vegetable oil for frying
In a large pan over medium-high heat, boil meat with onion until meat is tender and falls apart, drain, shred and mix in diced green chili. Salt and pepper to taste.
Roll dough flat about 5 to 7 inches in diameter. Not to thin, you want this to be at least ¼ thick. Place meat and shredded cheese on the bottom half of dough. Fold over dough and press ends together with fork.
Heat the vegetable oil to about 350 degrees F. NOTE: You can check by either dropping a small piece of dough in the hot oil and seeing if it begins to fry, or by dipping the end of a wooden spoon in and seeing if that bubbles. Your oil should be about 1-inch deep in a large cast-iron skillet or other large fryer.
Take the formed dough and gently place it into the oil, being careful not to splatter the hot oil. Press down on the dough as it fries so the top is submersed into the hot oil. Fry until brown, and then flip to fry the other side. Each side will take about 3 to 4 minutes.
Top with guacamole, if desired, lettuce and tomatoes to garnish.
Easy guacamole:
2 avocado cut into half's, spoon out avocado.
1 teaspoon garlic salt
Blend well
Makes 4 servings