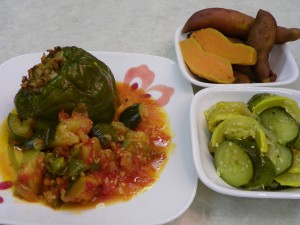 this was Dinner this evening…Stuffed Peppers, sauted Squash & new baby Sweet potaotoes. I made the stuffed peppers with a jar of stewed zucchini I had leftover from canning which was mostly tomatoes &juice. I poured the zucchini & remaining tomatoes around the peppers. It was good! All the veggies were grown local !
minced garlic(use fresh if you have it),
salt & pepper.
I used the liquid from my extra jar of stewed zucchini which had( tomatoes,juice,garlic,chopped celery & onion & a little sugar) These stuffed peppers have a mild taste.