PHOTO SUBMITTED BY ME: Serena Ellison ALSO REVISED THE RECIPE..SEE CHANGES AT THE BOTTOM OF PAGE.
Icebox Pickle recipe for fridge  Submitted  by Amanda NayNay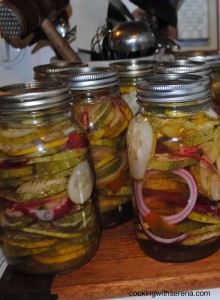 How To Make Icebox Pickles
6 cups sliced, unpeeled cucumbers
1 cup sliced red onion
1 cup sliced green bell pepper
1 T celery seed
1 T. salt
2 cups sugar
1 cup vinegar
Combine all ingredients in a glass jar or crock.  Cover with water and refrigerate.  You can eat them immediately, but I will tell you that the pickles are much, much tastier if you let them sit in the refrigerator for a few weeks. They will keep up to 3 months in the fridge.
REVIEWS:
been canning bread and butter pickles today and was ready to make these  icebox pickles but decided to can them instead.. did recipe the same way as was posted earlier by Amanda NayNay

only adding more vinegar, Sugar and Two Tbsp of the Celery Seed. Added some banana peppers in there too and an additional tsp of salt to each jar and put it on a water bath for 5 minutes
turned out great thanks for the inspiration =) Serena Ellison