HAS CANNING RUINED YOUR STOVE TOP? HERE IS THE SOLUTION!

HAS  THE OVERHANG OF HEAVY CANNING AND HUGE POTS RUINED YOUR STOVE TOP? Well I thought it did mine.. I tried EVERYTHING.. Let me tell ya..
I have soaked, scrubbed till my arms were noodles, I have salted for abrasives, I have used vinegar, lemon juice, mixed to make a paste with baking soda and let set for hours..and scrub scrub scrub.. I have used magic erasers, degreasers, I have USED IT!!!!
BUT tonight I have found after declaring war and going to walmart to get a buggy load of cleaning products suggested by viewers.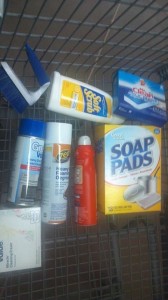 29 dollars worth that is… that what I needed all along  I actually already owned.. (well my hubby owned it, but it is MINE now lol)
A straight edge razor blade thingy!!!!!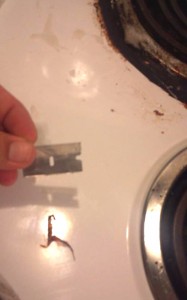 that is all I needed  I came home with all this to declare war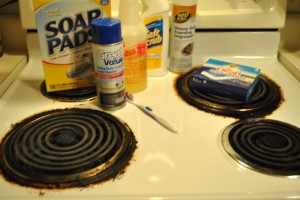 I used the soft scrub and the magic eraser some but they would not TOUCH the burned on ring from my Canner.. the scraper thingy is the only way it would have ever came off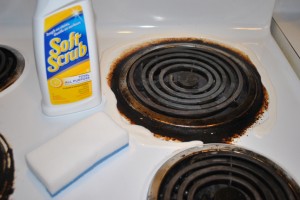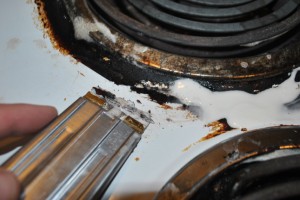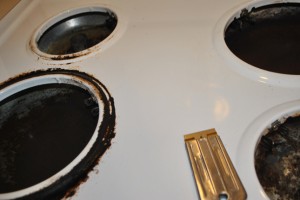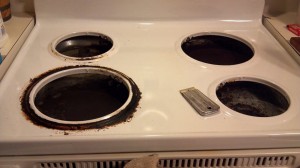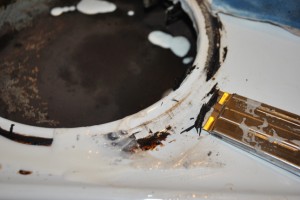 BAM!!!!!!