HARVEST APPLE PIE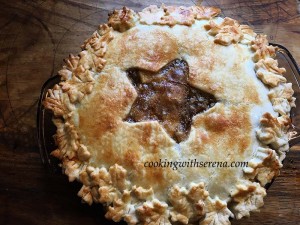 Filling
3 lbs of Fuji Apples
White Sugar
Butter
Brown Sugar
Cinnamon
Allspice
Oats
2 tbsp Walnuts (optional)
2 Tbsp Raisins (Optional)
Self Rising Flour
Water
Cornstarch
Peel, Core and Slice thin Apples breaking apart. Place in medium sized sauce pan.  Add a tiny amount of water, like maybe 1/4 cup or less
add in a large tab of real butter turn on stove eye and start cooking down but not to mush.. apples need a bite to them before going into oven.
In Sauce pan add in a good amount of white sugar and about 1/4 cup of brown sugar. Sprinkle in some Cinnamon.. maybe a Tbsp.
Add in about a 1/2 tsp of Allspice, and about three tbsp of Self Rising Flour
Keep stirring your apples over stove top.
In a cup add about 3 heaping tablespoons of corn starch and mix well with same amount of tap water.
Stir in the mixture to  your apples while boiling.. stir .. if too thick you can thin out a little but should be just right.  if your adding the walnuts and raisins now is the time to do it.  Add in about a Tbsp of dry Oats.
Take off stove and taste.. if right let set to cool while preparing pie crust.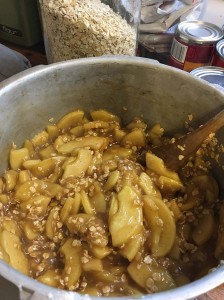 PREHEAT OVEN TO 400 degrees
Prepare a pie crust in dish. Pour your semi cooled apple mixture into your raw crust.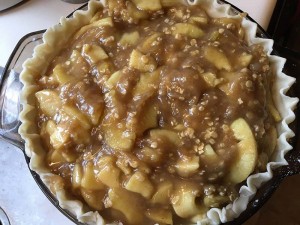 Place a couple tabs of butter over top and sprinkle on some brown sugar lightly
place your top crust over top and decorate if desire or just cut slits on top for ventilation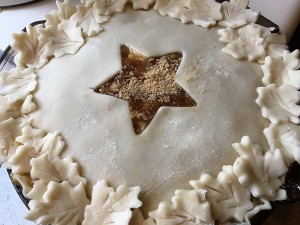 Brush Egg Wash over entire top of pie then add a sprinkle of white sugar ever so lightly
Place in hot 400 degree oven and turn down oven immediately to 350.
Bake it for 40 minutes or until top is a Golden Brown.
Take out let cool on wooden block or on rack.
Once Cooled Serve with Vanilla Ice Cream.
Egg Wash
Egg White
Milk
White sugar
mix together with fork and brush on pie crust