Doggy Liver Muffins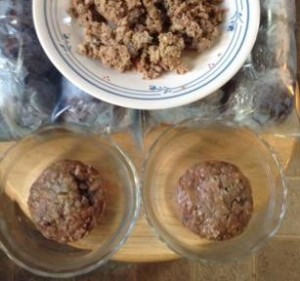 A treat for your best friend!
5 lbs beef liver
3 large grated carrots
1 cup instant rice, soaked in warm water to soften
a dash or 2 of salt
In the food processor, grate the carrots very fine, put in large bowl. Add rice and whatever water is left from soaking it. Add salt, a few dashes…mix well.
Put liver, a bit at a time into food processor and liquify, keep doing this till it's all done, and keep pouring off to rice/carrot mixture.
Grease muffin tins….I make 24 for this recipe. Use ice cream scoop and fill each muffin cup to the top. Bake at 350 for 25 or 30 min.
While waiting, let dogs clean the bowl and spoons and ice cream scoop. Wipe the blood off their happy faces and put the utensils in the dishwasher.
When done, turn out and let cool on large dinner plates, you can give those begging dogs a little bit now. When cool, put 5 together in a row and wrap with cling wrap and twist each end to seal. Put these into zip lock freezer bags and freeze. I take 2 out at lunch and by supper my 2 babies have a delicious , healthy meal made by Mom!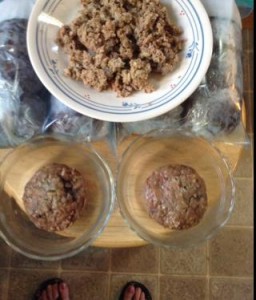 I have a bunch in the freezer and some fresh ones my doggies are drooling over!
They only like beef liver…..they are Bichons, T
hey only want the best!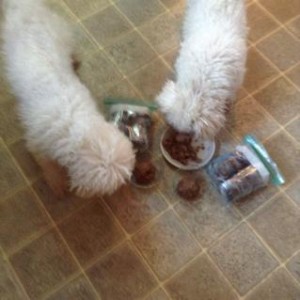 Happy Doggies! Skippy on the left and Bijou on the right!
Bonnie Carey

Stuffed little snowballs right now! Notice they didn't even see me ? In the 2 zip lock baggies are 10 muffins all wrapped in 5's and that's X 2…so 20 doggie muffins in the freezer!
July 2022
M
T
W
T
F
S
S
« Jun
1
2
3
4
5
6
7
8
9
10
11
12
13
14
15
16
17
18
19
20
21
22
23
24
25
26
27
28
29
30
31