RECIPE AND PHOTOS SUBMITTED BY MY COUSIN BIG SAM SIZEMORE
COUSIN SAM SIZEMORE'S EGG ROLLS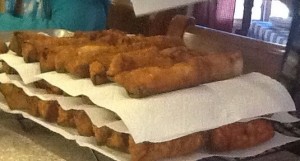 makes aprox 30  Deep Fried egg rolls
buy wraps get Melissa's egg wraps brand  at Krogers
get extra wraps…
1 medium head cabbage.. shred it up
yellow onions -2 chopped
1 bag small  baby carrots  or 3-4 big carrots peeled and shredded
celery 7 big sticks chopped in cubes, then grind up in processer
1 tsp accent
2 tbsp chopped garlic
1 tbsp coarse kosher salt – or do it to your taste
4 or 5 eggs cracked
ground turkey 1 pound is for 30 egg rolls (darker turkey)
once chopped, mix it up well!!!!!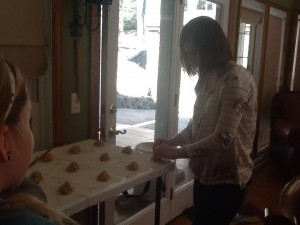 1/3 cup about.. I use a big old spoon.. cati corner layer over.. push the ends tight so they don't boil out..
mix 1 tsp cornstarch with 1/2 cup water.. take brush and seal that corner edge.. egg whites will work too but not as good.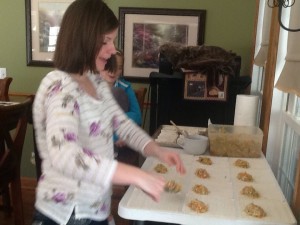 cook in peanut oil or vegetable oil at 325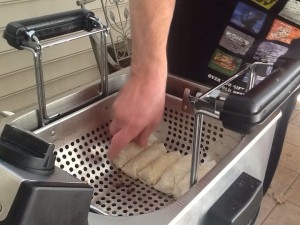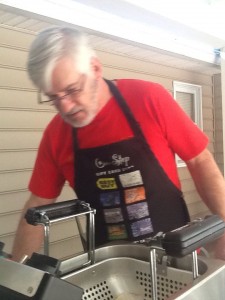 16 minutes !!!!
put racks out with paper towels across and stack so air can get in..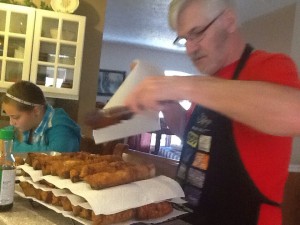 enjoy with Louisianna Hot sauce and