DEEP DISH PEACH COBBLER
I used a throw away lasagna pan for this to take to a picnic. ,,.  you can use a regular 9×13 if you wish. NOTE if you are using a throw away pan, place it on a cookie sheet to keep the flimsy pan from buckling in on you . 
You usually measure with your heart when you make biscuit topping for your cobblers.. so this is an estimate..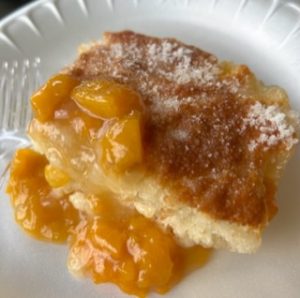 about 3 cups of Self rising flour, and to the flour mixture I added about two cups of sugar and two cups of whole milk. Add a little vanilla to the batter (you don't have too but I like to)  Stir your batter and set aside.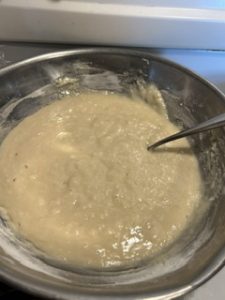 Preheat oven to 350
In heavy pot I add two large cans of peaches in heavy syrup and using a metal spatula I cut the peaches up
Add a tbsp or so of salted butter
turn on heat and add in about a cup of white sugar and let it cook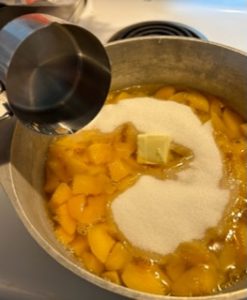 Make a cornstarch slurry in a cup out of a couple Tbsp of cornstarch and mix just enough water in the cornstarch that you can stir it up to pour… Pour in your slurry into the peaches only after they come to a boil.. then stir well to thicken and turn down heat once desired thickness is reached. …
Take a whole stick of butter, put into pan and into oven to melt…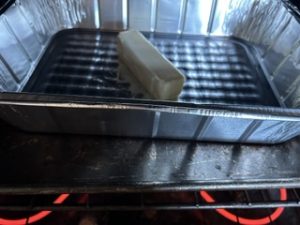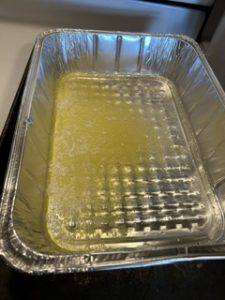 bring out pan and pour hot peach filling into pan over butter.. use rubber spatula to get all of it out and spread into all corners.

Next add your biscuit topping to your peaches. use spatula to make sure all corners and middle is covered.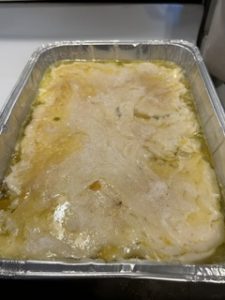 Sprinkle some sugar on top and place into the oven to bake .. about 35 minutes give or take.
Take out and let set up a little if you can before cutting
October 2023
M
T
W
T
F
S
S
« Sep
1
2
3
4
5
6
7
8
9
10
11
12
13
14
15
16
17
18
19
20
21
22
23
24
25
26
27
28
29
30
31