Here are some edible gingerbread ornaments and gingerbread houses below with recipe and comments from Facebook Group TRIED AND TRUE RECIPES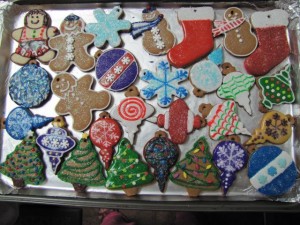 Comments from TRIED AND TRUE RECIPES on FACEBOOK
Nancy Sousley

Gorgeous & it took lots of time & patience I'm sure. I tried to grab the tree, blue ball & snowflake.

Judith Parady Rice

What a great idea to do this . When kids come to visit they can just walk to the tree and help themselves to a treat. Beautiful work and what patience,, and detail. WOW!

Serena Adkins Ellison

do you have a special gingerbread recipe for your cookies.. these look professional

Alexandra Lim

Thank you for the compliments everyone, it did take a lot of time and patience decorating them. My kitchen angel worked hard helping me and it was her idea to make the edible ornaments.

Alexandra Lim

Here's the recipe – its the same one I used for the mini gingerbread houses.

INGREDIENTS6 cups all-purpose flour1 teaspoon baking soda1 teaspoon baking powder1 1/2 teaspoons salt1 tablespoon, plus 1 teaspoon ground ginger1 tablespoon, plus 1 teaspoon ground cinnamon1 1/2 teaspoons ground clove1 cup unsalted butter, room temperature1 cup dark brown sugar, well packed2 eggs1 cup molassesDIRECTIONSTo make the gingerbread cookie dough:In a bowl, whisk together the flour, baking soda, baking powder, salt, ginger, cinnamon, and clove.In the bowl of a stand mixer cream together the butter and brown sugar with the paddle attachment, until light and fluffy, about 2 minutes on medium high speed. Scrape down the sides of the bowl. Add the eggs one at a time, mixing well between each and scraping the sides of the bowl. Mix in the molasses on low speed, until well blended. Add the flour all at once and mix on low speed just until it all comes together. Scrape down the bowl and turn the speed to medium, beat for 15 seconds.Wrap the gingerbread dough in plastic and refrigerate until set up, at least an hour.Preheat oven to 350 degrees F. Line a cookie sheet with parchment.Bake for 5 minutes, then rotate the cookie sheets in the oven front to back and top to bottom. Bake for an additional 3 to 5 minutes. Be very careful not to over bake, since the cookies are already so dark it can be hard to tell when they are done. The tops will be slightly dull when they are done.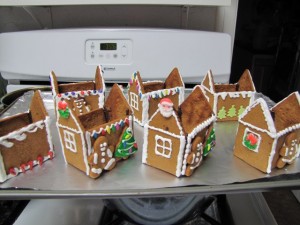 Alexandra Lim different flavored M&Ms